We'd like to thank all of this year's Sugar Awareness Week charity supporters: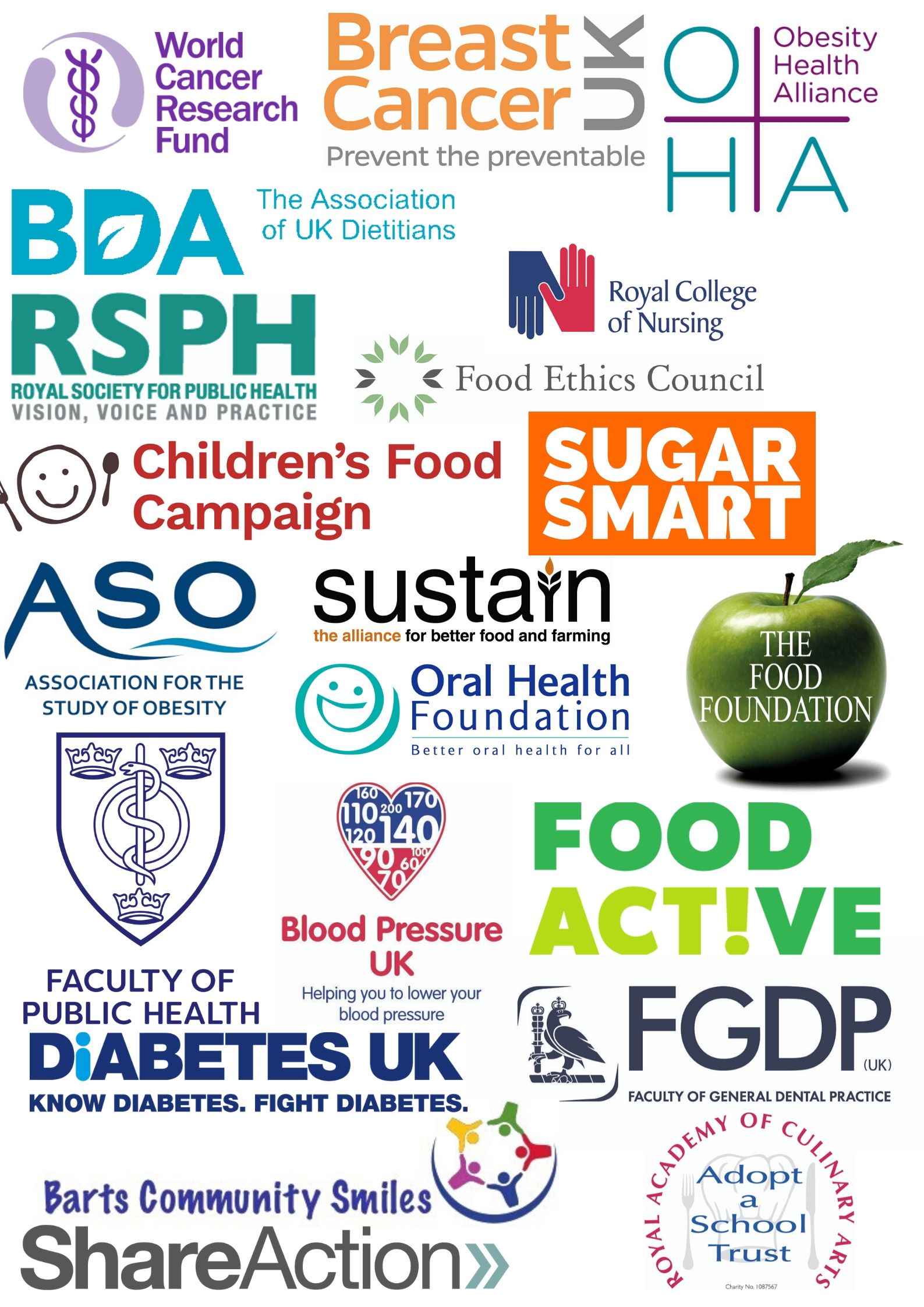 Adopt a School said:
"As a food education charity working with chefs to teach children about food and how it impacts our bodies and the environment, The Royal Academy of Culinary Arts' Adopt a School Trust is pleased to support Sugar Awareness Week. While the healthiest choice isn't always the easiest one, this is a perfect time for all of us to think more about what we are eating and ramp up our efforts to reduce the amount of sugar we eat every day. This is crucial if we are to tackle child obesity and tooth decay."
Association for the study of obesity said:
"The Association for the Study of Obesity (@UK_ASO) is dedicated to the understanding, prevention and treatment of obesity and aims to develop an understanding of obesity through the pursuit of excellence in research and education, the facilitation of contact between individuals and organisations, and the promotion of action to prevent and treat obesity. ASO is happy to support Action on Sugar's Sugar Awareness Week 2020 as part of the broader nutritional strategy to prevent obesity and its comorbidities in the UK. Action on Sugar's 7-point prevention plan is consistent with the scientific evidence for prevention of overweight and obesity and the UK government's Sugar Reduction Programme. We look forward to promoting Sugar Awareness Week through our national and regional networks and centres for obesity management."
Bart's Community Smiles said:
"Student-led volunteering groups Barts Community Smiles from QMUL are proud to be part of Sugar Awareness Week 2020 once again. BCS is working in collaboration with SmileSoc from KCL to raise awareness of sugar and its harmful effect on general and oral health to university students through on-campus promotions and social media challenges!"
Breast Cancer UK said:
"Breast Cancer UK is pleased to support Sugar Awareness Week to highlight its link to obesity, which can be a significant factor in breast cancer risk."
British Dietetic Association (BDA) said:
"The British Dietetic Association is pleased to support Sugar Awareness Week to highlight the need to reduce the amount of free sugar in our diets and help people to improve their diets overall. The BDA have supported a range of actions such as the soft drinks industry levy and restriction on unhealthy food marketing, and this week will be a great opportunity to talk about the further steps we need to take to create a healthier and more sustainable food environment."
Blood Pressure UK said:
"We are delighted to be supporting Action on Sugar's Sugar Awareness Week. It is vital that we tackle the huge problems of high blood pressure and cardiovascular diseases, which are largely due to consuming too much sugar, salt, fat and alcohol, if we are to have any chance of improving the health of the UK population. We are encouraging all our supporters to back Action on Sugar's calls for food and drinks manufacturers to give better options to their shoppers – such as stricter enforcement of the sugar reduction targets, to extend the soft drinks industry levy, mandatory front of pack labelling and restrictions on advertising and promotions. Wishing you a successful week and we look forward to seeing you at the House of Commons!"
Children's Food Campaign said:
"Let's get 2020 off to a healthier start by supporting Sugar Awareness Week in January. Every parent knows that eating too much sugar makes it a lot harder to maintain healthy weight and healthy teeth, but their job is made so much harder by the environment our children are growing up in. Let's call on companies to do more remove added sugar from our food and drink, and government to move faster in restricting the amount of sugary advertising and marketing our children are exposed to on a daily basis."
Diabetes UK said:
"Obesity is the most significant risk factor for type 2 diabetes, accounting for 80-85 percent of the risk. Currently the environment we live in does not make healthy options the easier options. We support calls for clear nutritional information on products and on menus when we eat out. The food industry must also do more to reduce unnecessary calories, free sugar, saturated fat and salt in our foods and drinks. Our research clearly shows that people with diabetes and the general public want more information about the food they eat and expect the government to act."
Faculty of Public Health said:
"The UK Faculty of Public Health (FPH) supports Sugar Awareness Week as a way of highlighting the detrimental impact of sugar on the levels of obesity, tooth decay – particularly in children and young people - and type 2 diabetes. The rising incidence of obesity costs the NHS £6bn per year, with indirect costs estimated at £27bn, and obesity affects approximately 13% of the global population. These impacts do not affect the population equally; for example, children living in areas of the highest deprivation have twice the rate of obesity as those living in areas with the lowest levels of deprivation. The Faculty of Public Health has previously supported the successful levy on soft drinks."
Professor Maggie Rae, President
Food Active said:
"We are really pleased to be supporting this year's Sugar Awareness Week. Whilst the soft drinks industry levy has made some tracks in reducing the proportion of free sugars in soft drinks, many are still very high in sugar and there is a huge amount of variation between brands, the war on sugary drinks is by no means over. The sugar reduction programme on the other hand has barely left the station, with figures last year revealing reductions in sugar have fallen significantly short of meeting the 20% reduction target by 2020 - overall 2.9% reduction in sugar across the ten food categories since 2015. This illustrates the need for sugar reduction to remain high on the agenda, and Sugar Awareness Week is a great way to keep the pressure on the Government and food industry to step up to the plate and make sugar reduction a priority for the public's health!"
Food Ethics Council said:
"We're supporting Sugar Awareness Week because we all need to limit the amount of sugar we consume – for our own health and wellbeing, and that of the planet. We urgently need to change the food environment around us so that healthy, sustainable diets become the norm."
Dan Crossley, Executive Director, Food Ethics Council
Food Foundation said:
"Together with Action on Sugar, the Food Foundation's Broken Plate report revealed that half of breakfast cereals marketed to children are high in sugar, and recommended that all child-friendly cartoon characters are removed from unhealthy products. The impact of this collective work is now being felt, with Lidl and Asda voluntarily removing cartoon characters from their cereals, and we urge all other retailers and manufacturers to follow suit."
Obesity Health Alliance said:
"It's harder for families to eat healthily when our food environment is flooded with sugary and high calorie foods. The Government has challenged the food industry to reduce sugar in some products by 20% by 2020 but progress so far has been disappointing. This sugar awareness week, the Obesity Health Alliance is calling on the Government to clearly state the next steps for companies who fail to make the effort to reformulate their high sugar products."
Oral Health Foundation said:
"Consuming too much sugar, too often, can have a devastating effect on a person's life. Not only does it lead to a number of general health conditions like diabetes and obesity, but it is also the direct cause of tooth decay. Despite it being almost entirely preventable, millions of British people suffer from tooth decay and it is the number one reason why children are admitted to hospital. The Oral Health Foundation is proud to be supporting Sugar Awareness Week and raising awareness about the health risks associated with sugar. By reducing how much sugar we have, and how often we have it, we can improve the health of our mouth and give ourselves a better quality of life."
Royal College of Nursing said:
"Nurses are at the forefront in leading programmes to help people adopt healthier diets and lifestyles. This is a welcome campaign to help reduce the amount of sugar people consume and give them the best opportunity to improve their health. It is, however, not just about individuals and requires investment from government as well as long-term commitment from industry to help people make the changes needed to their diet."
RSPH said:
"We are pleased to be supporting Sugar Awareness Week 2020. Improving children's health must be prioritised, given that one in five children leave primary school with obesity. All children deserve to have equal access to healthy options, yet the environment is flooded with high sugar products. The soft drinks industry levy and sugar reduction programme are a step in the right direction, but we must see further reformulation if we want to turn the tide on the unhealthy food and drink offering. We back the call from Action on Sugar for clearer labelling – we need this to be mandatory on the front of pack and for food and drinks served outside of the home to make the sugar content clear. Retailers, manufacturers and the government have the power to set the stage to make healthier options the easy option."
Sustain and Sugar Smart said:
"They are pleased to support Sugar Awareness Week in 2020. This is a perfect opportunity to raise public awareness of sugar content in our diets and its impact on our overall health, but it's also a moment to highlight the leadership we need to see from industry and government to ensure the healthy choice is the easy choice. We hope individuals, organisations and policymakers step up to the Sugar Awareness Challenge."
The Dental Wellness Trust said:
"Shocking figures from NHS Digital showed that in England during 2018, 83 children under the age of two had at least one tooth extracted due to decay. Nearly 36,000 children between the ages of two and 17, had a tooth pulled for the same reason. The statistics also showed that 54 children aged nine or under had all of their teeth removed. Across England, 2,806 patients of all ages had every tooth extracted. Although the reasons for this were not recorded, sugary drinks and a lack of NHS dentists have been blamed. That is why Dental Wellness Trust fully supports Sugar Awareness Week and the proactive campaigning to help fight tooth decay – in addition to obesity and Type 2 Diabetes. Strategies such as oral health prevention and supervised tooth brushing programmes in schools and nurseries across the UK are one way of fixing this long overdue "prevention better than cure" ethos and we call on the government for more urgent funding and support.
The Faculty of General Dental Practice said:
"In the UK we consume three times the recommended maximum amount of sugar. Tooth decay is almost wholly preventable, but affects a quarter of 5 year olds and a third of 12-year-olds, and tooth extraction is the number one reason children are admitted to hospital. Reducing sugar intake lowers our risk not only of tooth decay, but of a wide range of illnesses including obesity, type 2 diabetes, heart disease, stroke and some cancers. Through education and regulatory action, consumers of all ages need to be empowered to make the healthy choices the easier ones."
Roshni Karia, Vice Dean, Faculty of General Dental Practice (UK)
World Cancer Research Fund (WCRF) said:
"We know that junk food adverts affect children's food and drink choices, and that junk food is cheap and convenient. So it is far too easy to consume too much sugar which increases the risk of weight gain, overweight and obesity. Children who are overweight or obese are more likely to be so as adults, putting them at an increased risk of at least 12 different types of cancer.
This Sugar Awareness Week, WCRF calls on the government to be bold, to put the nation's health first and to introduce policies that make it easier for everyone to be healthier. This includes a 9pm watershed on junk food adverts across all media."
Kate Oldridge-Turner, Head of Policy & Public Affairs