House of Commons Reception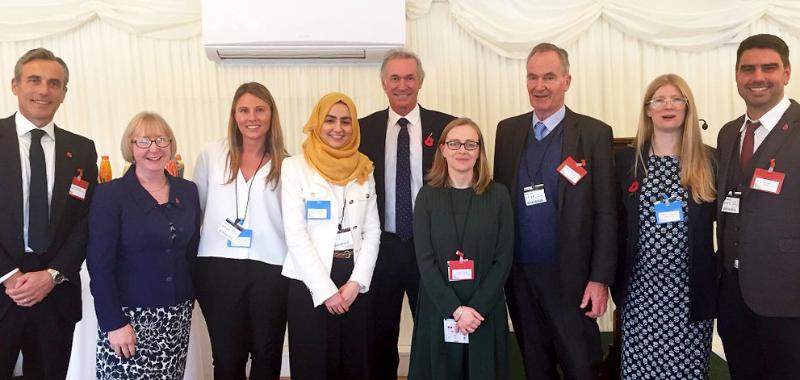 Action on Sugar held a Parliamentary reception at the House of Commons to bring this year's Sugar Awareness Week campaign 'What's the deal?' to the attention of MPs. The reception was hosted by Maggie Throup, MP for Erewash and Chair of the All-Party Parliamentary Group on Obesity and was well attended by the food and drink industry, NGOs and health care professionals, as well as members of parliament.

We were fortunate to have a great line up of speakers, with varied backgrounds and expertise, who each gave their perspective on sugar reduction – from government and public health, to medical and industry experts. In addition to Maggie Throup MP, who discussed the importance of sugar reduction and role of the government, our speakers were:
Dr Hilary Jones, GP and Medical Broadcaster, discussing the imact of excess sugar intake on our health and the impact on the NHS.
Victoria Targett, Public Health England, Team Leader, Sugar Reduction, providing an overview of the evidence and explaining why sugar reduction is important and how the food environment, including price promotions, contributes to excess sugar intake.
Chris Bavin, Green Grocer and TV Presenter as seen on BBC's Eat Well for Less?, highlighting the challenges the public face when attempting to make healthy, affordable choices when shopping.
Peter Harding, Chief Operating Officer of Lucozade Ribena Suntory Ltd and President of the British Soft Drinks Association, discussing the role that the food and drink industry can play to support the public in consuming less sugar?
Professor Graham MacGregor, Chairman of Action on Sugar,

explaining the importance of sugar reduction at population level and what's next for our campaign.
Exhibiting and supporting our event were Change4Life, the Obesity Health Alliance, World Cancer Research Fund, the Children's Food Campaign, Blood Pressure UK, FoodSwitch and Boka Food.