We'd like to thank all of this year's Sugar Awareness Week industry and charity supporters: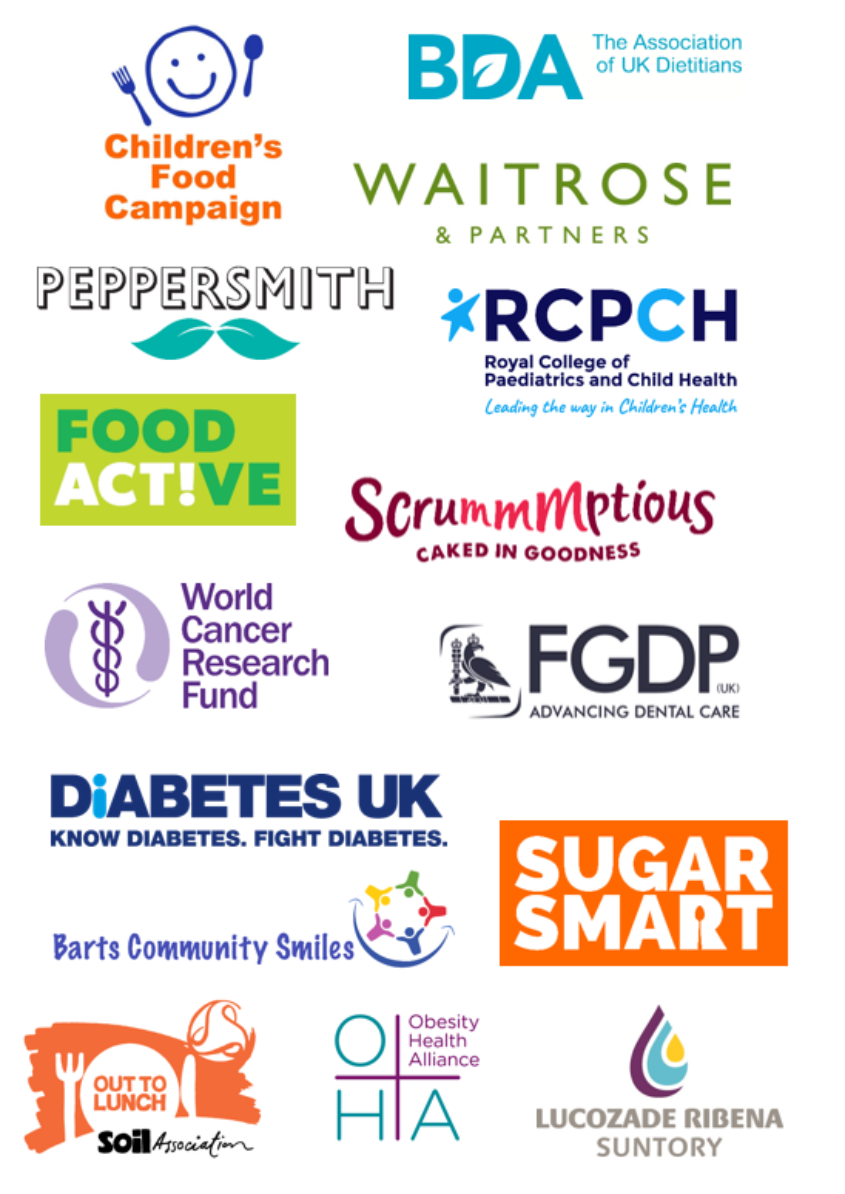 British Dietetic Association said:
"We know that the UK population, and in particular children, are consuming too much sugar and high intakes are associated with greater risk of tooth decay and obesity. That's why we are pleased to support Sugar Awareness Week and help highlight the importance of action to reduce the nation's sugar intake"
Barts Community Smiles said:
"Student-led dental volunteering group Barts Community Smiles is proud to support Action on Sugar's Campaign and hope to raise awareness about the harmful effects of sugar to students on QMUL campuses through our Sugar Challenge!"
Barbara Crowther, Co-ordinator, Children's Food Campaign said:
"Let's all get behind Sugar Awareness Week this November! If we're serious about reducing child obesity and tooth decay, then we have to be doubly serious about reducing the amount of sugar we eat on a daily basis. It's up to all of us – individually, in our families and communities, businesses and government, to build a healthier and less sugar-laden food system for the benefit of our children today, and future generations."
World Cancer Research Fund said:
"World Cancer Research Fund is very pleased to support Sugar Awareness Week 2018. Our research shows there is strong evidence that regularly drinking sugar-sweetened drinks can lead to weight gain, overweight and obesity, which in turn increases the risk of at least 12 cancers. Our latest report Diet, nutrition and physical activity: Energy balance and body fatness – the determinants of weight gain, overweight and obesity [also highlights the strong evidence that 'fast foods' and a 'Western type' diet (which includes high amounts of sugar) are among the key factors that increase the risk of weight gain, overweight and obesity".
Lucozade Ribena Suntory said:
"Lucozade Ribena Suntory's purpose is to have a positive impact on the lives of our consumers, and we continue to support Sugar Awareness Week in its mission to empower people with the knowledge they need to make informed, healthier choices. In pursuit of this shared ambition, we reduced the sugar in our drinks by 50%, removing 25,000 tonnes of sugar and 92 billion calories from UK shelves, successfully transitioning more than 15 million consumers towards more healthy drinks with half the sugar. We've also invested in health and well-being communications and to-date have inspired more than 1 million people to move more, more often through our Made to Move campaign."
Moira Howie, Waitrose & Partners Nutrition and Health Manager said:
"We know that making small nutritional improvements to the foods and drinks that we eat most often can help our customers to eat more healthily. We support the Government's sugar reduction and wider reformulation programme, and have been gradually reducing the sugar in several product areas since 2015."
Diabetes UK said:
"Our research clearly shows that people with diabetes and the general public want more information about the food they eat when they're out and about. We support Action on Sugar's call for clear nutrition information when we out. Our Food Upfront campaign is calling on the government and restaurants, cafes and takeaways to provide clear and accessible nutritional information so customers can make informed choices"
Mike Stevens, Founder and MD, Peppersmith said:
"We're really excited to be supporting Sugar Awareness Week this year, joining other organisations in raising awareness of better sugar free options. We're here to show that there's no need to compromise on taste or quality when it comes to eating less sugar in confectionery and beyond."
Shaun Licence, Director of Scrummmptious Cakes said:
"We are supporting Sugar Awareness Week because we are keen to show that it's possible to produce a great tasting product, which uses less sugar. A lot of food products use more sugar than they need to from a functional perspective and we believe all manufacturers should be working towards using healthier flavouring alternatives and reducing sugar levels in all types of food. Hopefully, this will lead to a change of preference in consumers' taste, helping to combat the growing number of related health issues for current and future generations."
The Out to Lunch campaign said:
"The Out to Lunch campaign is supporting Sugar Awareness Week's call for clearer labelling in the out of home sector. All chains and restaurants should be acting in a transparent manner, supporting diners, including children and families, to understand the provenance and nutrition of the meals they are consuming."
Vera Zakharov, SUGAR SMART Campaign said:
"We fully support Sugar Awareness Week and hope more people than ever get involved this year. Whether as an individual or family making an effort to read labels and try healthier options, or as a setting (school, workplace, organisation) using this as a chance to engage your community on the dangers of sugar overconsumption and support healthier choices, there is something all of us can do tackle the sugar crisis."
Roshni Karia, Board Member, Faculty of General Dental Practice (UK) said:
"In the UK we consume three times the recommended maximum amount of sugar. Tooth decay, an almost wholly preventable disease, affects a quarter of 5 year olds (in their primary teeth) and a third of 12-year-olds (in their permanent teeth), and tooth extraction is the number one reason children are admitted to hospital. Reducing sugar intake lowers our risk not only of tooth decay, but of a wide range of illnesses including obesity, type 2 diabetes, heart disease, stroke and some cancers. Through education and regulatory action, consumers of all ages need to be empowered to make the healthy choices the easier ones."
Food Active said:
"Food and drink consumed outside of the home plays an increasingly important part of our dietary intake in the UK – yet many popular options in cafés, restaurants and fast food outlets are high in fat, sugar and salt without providing any nutritional labelling – meaning consumers could be exceeding their recommended daily intake of free sugars, for example, without even realising. That's why we are supporting this year's #SugarAwarenessWeek to help consumers make healthier choices when eating out and about!"
Obesity Health Alliance said:
"Eating too much sugar contributes to high levels of obesity, increasing the risk of diseases such as Type 2 diabetes, cancer, heart and liver disease. It is easy to eat too much sugar when we are constantly faced with adverts and promotions for unhealthy foods, and much of the everyday food we buy contains high amounts of sugar. Whilst certain food brands made good progress in reducing the sugar content of food and drinks, many of the top-selling brands have failed to make any progress, or have even increased the sugar content of their products. This is why the Obesity Health Alliance is calling on the food industry to do more to further reduce sugar in line with PHE targets this Sugar Awareness Week."
Jenny Rosborough, Head of Nutrition at Jamie Oliver said:
Sugar Awareness Week is a great opportunity to remind our government that they need to stick to their promises of making changes to improve our food environment in chapter 2 of their Child Obesity Plan. Government plans to ensure kids are 'growing up healthy' must be a top priority.
Dr Max Davie, Officer for Health Promotion at the Royal College of Paediatrics and Child Health said:
"The consumption of excess sugar is closely linked to the ongoing childhood obesity crisis, taking casualty of around one in three children and young people by the time they leave school. With the introduction of the soft drinks industry levy, and the ongoing consultation on energy drinks, the Government's Childhood Obesity Plan is making steps towards reducing children's excess sugar consumption and is helping to educate the public on the impact that added sugar can have on their health. Further action is now needed to tackle this, including restrictions on junk food marketing before the 9pm watershed on TV, and improving nutritional education within all schools by making health education a statutory subject. Reducing intake of excess sugars and increasing awareness of the health impacts of good nutrition is key to helping children to stay at, or return to, a healthy weight across their lifetime, not only benefiting children but the health service too."