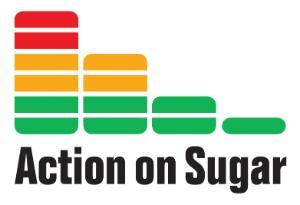 Action on Sugar was launched in 2014, by Consensus Action on Salt and Health – now Action on Salt, to inform and influence sugar reduction policies in the UK, which can also be replicated worldwide, to support the population in consuming no more than the recommended five percent of total energy from free sugars.
Action on Sugar comprises leading expert advisors who have been striving to commit the government to releasing an evidenced-based childhood obesity strategy and to ensure that it is then implemented effectively.
Action on Sugar has successfully created a huge amount of awareness of the impact of excess sugar consumption on our wellbeing. Already, manufacturers and retailers have reformulated their products following our widely publicised surveys exposing the high and low sugar products through national, and international, media. Action on Sugar works closely with the food and drink industry to inform their nutrition strategy and provide technical expertise around sugar reduction. We publish research in influential journals demonstrating our findings and modelling the impact of sugar reduction strategies, which is used to influence the decision of policy makers with persuasive evidenced-based arguments.
Action on Sugar is a registered charity and is funded by charitable donations. We do not accept any funding from the food or soft drinks industry.