Sugar Awareness Week 2018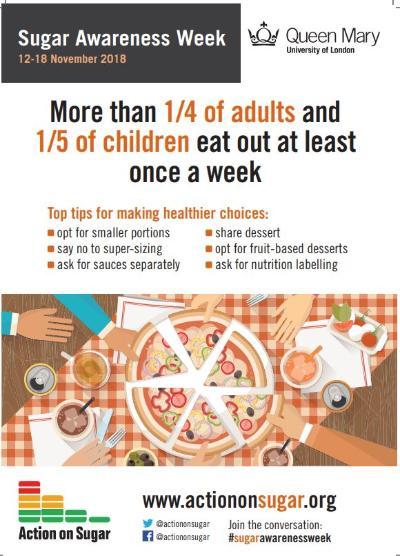 This year's Sugar Awareness Week will run from the 12th-18th November, 2018.
Sugar Awareness Week will be an opportunity to celebrate the success of food industry, government and NGOs' progress so far, and discuss the future for sugar and calorie reduction and its place in the government's Childhood Obesity Plan.
This year's theme will be 'Eating out'. We love to eat out in cafés and restaurants in the UK and we think it is disgraceful that many do not have nutrition information available at point of choice. It is even more shocking that when there is, it reveals unnecessarily high levels of sugar and calories.
Download our 'Eating out' poster for local events or to display at your school or workplace: SAW Poster eating out [PDF 1,539KB]
Action on Sugar want to see clear nutrition labelling when we eat out, and a reduction in portion size, sugar and calories. The government are consulting on calorie labelling now, have your say by 7th December 2018.
Support our campaign and get involved! Join the conversation on Twitter and Facebook: #sugarawarenessweek