Call for a complete ban on all confectionery price promotions after new survey reveals shocking amounts of sugar
26 January 2018
Manufacturers accused of discounting 'sharing bags' to encourage excessive sugar consumption - over a third of 16 to 24 year olds admit to eating the whole bag alone, in one go!
Certain chocolate confectionery sharing bags contain a massive 29 teaspoons of sugar – FOUR times an adult's MAXIMUM daily sugar intake
At the time of data collection the majority of retailers were actively offering price promotions on some sharing bags
Action on Sugar is calling for a ban on ALL confectionery price promotions as part of the government's revised (and long awaited) childhood obesity plan
Confectionery sharing bags data [PDF 397KB]
Action on Sugar, based at Queen Mary University of London,1 is today calling for a complete ban on all confectionery price promotions PLUS a sugar tax on all confectionery of at least 20%. This follows a NEW product survey by the group of leading experts who have exposed the high amounts of sugar in chocolate confectionery 'sharing' bags.

Of the 95 chocolate confectioneries surveyed,2 the 'sharing' bag with the highest amount of sugar3 per pack (i.e. Brookside Dark Chocolate Pomegranate Flavour 198g) contained an astonishing 29 teaspoons, which is four times an adult's maximum daily sugar intake – almost 1000 calories!4

Next in line was Brookside Dark Chocolate Acai & Blueberry Flavors (198g) with 28 teaspoons of sugar per pack, followed by Marks & Spencer's Gigantic Milk Chocolate Buttons (170g) and Lidl Mister Choc White Chocolate Giant Buttons (140g), both containing a whopping 23 teaspoons of sugar. The M&S pack suggests there are five portions in it, but even if the pack is shared between five, a single portion still contains nearly five teaspoons of sugar - almost a 7-10 year old's maximum intake of sugar for an entire day.5

At the time of data collection (Dec 17-Jan 18) from Tesco, Asda, Sainsbury's, Morrisons, Co-op and Waitrose, each retailer was actively offering price promotions on some sharing bags (i.e. from as little as £1 per bag) which made them comparatively better value for money than smaller pack sizes.6

In a new Twitter poll by Action on Sugar, almost nine out of ten (85%) consumers called for the removal of price promotions on confectionery sharing bags.7 This coincides with a poll in The Grocer which revealed that over one in five adults (22.1%) don't share BUT eat sharing bags alone, in one go. The figure was even higher for 16 to 24 year olds at 35.7%.8

Consumption of confectionery is the second highest contributor to sugar intake in children, after soft drinks.9 If price promotions on high sugar products were removed, we could cut almost two teaspoons (7g) of sugar on average from every individual's diet per day.10

Despite the strong evidence and public support for such measures, the government has refused to tackle the level of price promotions on high sugar products to reduce excess sugar consumption. Action on Sugar is now calling on Prime Minister Theresa May to immediately revise and strengthen her Childhood Obesity: a Plan for Action, and have suggested 10 steps to tackle marketing in their own soon-to-be published Action Plan to prevent obesity and type 2 diabetes.11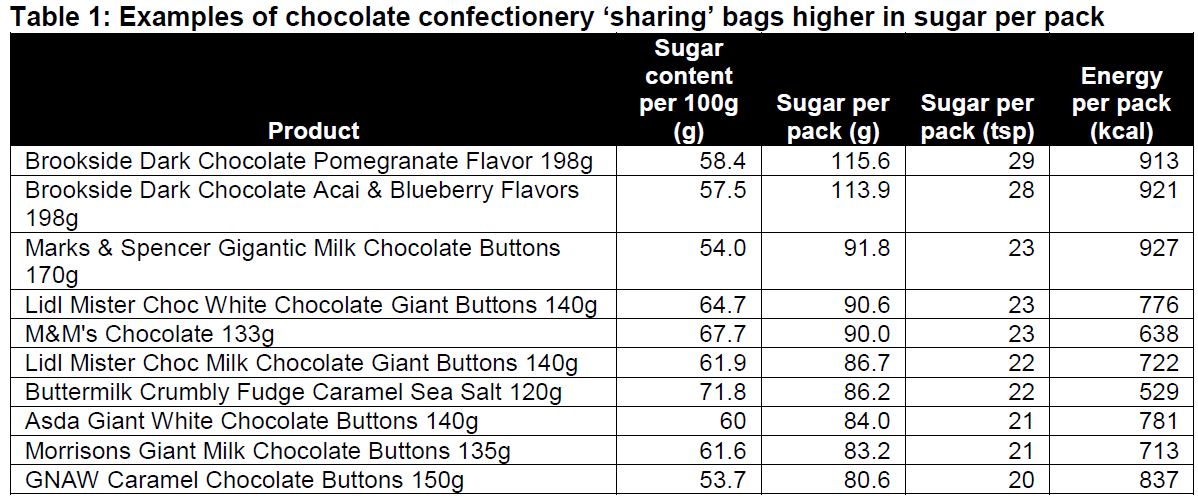 Registered Nutritionist Kawther Hashem, Researcher at Action on Sugar based at Queen Mary University of London says,"Companies and supermarkets are constantly finding ways to push more sugary products – which are contributing to the high rates of obesity, type 2 diabetes and tooth decay in the UK. These types of price promotions (i.e. discounts) encourage us to eat far too much sugar and calories and should be banned. It is time retailers are pressed to act responsibly and no longer profit at the expense of our health."

Graham MacGregor, Professor of Cardiovascular Medicine at Queen Mary University of London and Chairman of Action on Sugar says, "It is shocking that food companies are being allowed to exploit consumers, by manipulating them into purchasing larger size bags of chocolate confectionery on the cheap. Prime Minister Theresa May is letting companies get away with this despite pledging to help the socially deprived when she first became the Prime Minster. Companies must be held accountable and reminded to reconsider their ethical and corporate responsibility."

Jenny Rosborough, Campaign Manager and Registered Nutritionist at Action on Sugar says, "The government published its half-hearted obesity plan in 2016 along with confirmation that this was 'the start of the conversation' – we now need to see proof that the health of our children is the top priority. An improved childhood obesity plan must clamp down on promotional and marketing tactics that encourages nothing more than excess sugar and calorie consumption, and we hope they take our suggestions on board."

World Cancer Research Fund's Head of Health Information, Katherine Hale, said, "At World Cancer Research Fund, we welcome this new survey and Action on Sugar's call to ban confectionery price promotions. Excessive sugar consumption is one factor promoting overweight and obesity, and globally, the number of people overweight or obese has reached epidemic proportions. Our research shows a direct link between being overweight or obese and 11 types of cancer. To help countries meet the WHO sugar Guideline, we have created a policy brief – Curbing Global Sugar Consumption – to assist governments in reducing the amount of sugar being consumed at a population level. For tips on cutting down on your own sugar consumption, check out our blog."

Stephanie Wood, Founder/CEO of School Food Matters, said, "We're hearing from more and more parents about the mixed messages their children receive at school. Public health messages such as 5 a day and Sugar Smart are getting through but children are then offered sweets, cakes and chocolates as rewards. This is confusing and contradictory so we need to help schools develop a good food culture that supports children to keep themselves healthy."
Ends


For more information contact: David Clarke @ Rock PR:
E: david@rock-pr.com
M: 07773 225516

Notes to editors:

1 Action on Sugar is a group of specialists concerned with sugar and its effects on health. It is successfully working to reach a consensus with the food industry and Government over the harmful effects of a high sugar diet, and bring about a reduction in the amount of sugar in processed foods.

2 Nutrition information was collected for 95 products that are often packaged for 'sharing' by visiting all major supermarkets during Dec 17 and Jan 18. These included Aldi, Asda, Co-operative, Lidl, Marks & Spencer, Morrisons, Tesco, Sainsbury's and Waitrose. Action on Sugar defined a 'sharing' bag as a bag of chocolate confectionery between 50 – 200g and with a label to suggest it is intended for 'sharing' or a bag with multiple serving in a single bag not individually wrapped.

3 Sugar refers to free sugars. Free sugars are those added to food or those naturally present in honey, syrups and unsweetened fruit juices, but excludes sugars in whole fruit and vegetable and lactose in milk and milk products.

4 An adult's maximum recommended intake of sugar is 30g (7 tsp)

5 A 7-10 year old's maximum recommended intake of sugar is 24g (6 tsp)

6 Action on Sugar defined 'on promotion' as products displayed at the end of the aisle and/or discounted or appear to be discounted.

7 Twitter poll question and results - https://twitter.com/actiononsugar/status/952842533360500747

8 The Grocer. 2014. Revealed: one in four binge on chocolate sharing bags https://www.thegrocer.co.uk/reports/digital-features/confectionery-report-2014/revealed-one-in-four-binge-on-chocolate-sharing-bags/369836.article

9 Percentage contribution to total sugar intakes https://www.gov.uk/government/uploads/system/uploads/attachment_data/file/604336/Sugar_reduction_achieving_the_20_.pdf

10 It is estimated that 8.7% of all take home sugar is an incremental consequence of promotions, with about 6% coming from the higher sugar categories. In other words, a 6.1% saving in sugar volumes might be achieved if the level of promotions in higher sugar categories was reduced to zero. This equates to about 7.4g of sugar per individual per day. https://www.gov.uk/government/uploads/system/uploads/attachment_data/file/470175/Annexe_4._Analysis_of_price_promotions.pdf

1110 steps to tackle marketing to children, from Action on Sugar:
Only non-High Fat, Salt and Sugar (HFSS) products and brands should be marketed across all marketing platforms, including but not exclusive to; TV, cinema, radio, digital (online, social media and advergames), print and outdoor, including sporting and family-focused, events.
The use of licensed and unlicensed characters and celebrity endorsement on any marketing targeted at children, including on packaging, should only be used on non-HFSS products.
Only non-HFSS products and brands should be allowed to sponsor sporting and cultural events.
Only non-HFSS products should be put on promotion (including price promotions and multi-buy and extra-free deals).
Only non-HFSS products should be included in 'meal deals'.
Only non-HFSS products should be placed near the checkout or on the end of aisle in any retail setting, or be given prominent placement in online retail.
The food and drink industry should not be allowed to use 'upselling' techniques on HFSS products to persuade customers to buy something additional.
Free refills on drinks in out-of-home settings should only be available for water.
Progress of the above actions must be regulated and independently monitored.
The current Nutrient Profile Model should be reviewed, and the threshold lowered, to reflect the national free sugar recommendations.
HFSS are foods scoring 4 or more points, and drinks scoring 1 or more points, on the Nutrient Profile Model, are classified as 'less healthy' and are currently subject to Ofcom's controls on the advertising of foods to children on TV.