7 August 2017
• ALL food and drinks manufacturers urged to enforce colour-coded front of pack (FOP) labelling across ALL their products immediately
• New research reveals shoppers could eat a whopping 45 teaspoons less sugar per month if they switched to lower sugar brands through better FOP labelling
• The FoodSwitch App launches new 'SugarSwitch' filter to show shoppers just how much sugar is in their favourite foods, and help them switch to healthier products
• Six perceived 'healthy' cereal brands fail to include any form of FOP nutrition labelling at all
Leading sugar and health expert group Action on Sugar, based at Queen Mary University of London, is calling for colour-coded 'traffic light' front of pack (FOP)1 nutrition labelling to be introduced across ALL food and drink products after exposing many perceived 'healthy' cereal brands who have failed to include the Department of Health endorsed colour-coded labelling – despite some products containing high levels of sugar which would equate to a red label.
Twenty five breakfast cereal manufacturers were surveyed2, which showed that whilst Bear, Jordans, Kellogg's and Nestle do use FOP labelling, they do not use Department of Health's recommended colour-coding3, making it very difficult for consumers to interpret the information and make informed decisions. A further SIX brands, including Eat Natural, Lizi's, Nature's Path, Paleo Foods Co., Rude Health and Dorset Cereals, contain no front of pack nutrition labelling and some products contain high levels of sugar.
The extent of this deception has been revealed by the FoodSwitch UK app4, which provides colour-coded nutrition information for packaged food and drinks, even if there is no colour coding on the pack itself, so that users can see whether a product is high (red), medium (amber) or low (green) in total fat, saturates, sugars and salt. It also provides a list of similar, healthier alternatives and includes a new filter, SugarSwitch, which enables users to search specifically for healthier alternatives that are lower in sugar.
Surprisingly, breakfast cereal shoppers could save themselves a whopping 45 teaspoons of sugar per month (182g) if they had access to consistent FOP labelling allowing them to make informed decisions and switch to a lower sugar cereal.
For example, by using the colour-coded FOP labelling to switch from a bowl of Kellogg's Crunchy Nut Honey and Nut Clusters (12g sugar per 45g serving) to a lower sugar option, such as Tesco Flakes And Clusters Cereal (6g sugar per 40g serving) every day, consumers would reduce their sugar intake by 6g/day if the serving size recommendation was followed, or a staggering 182g/month5,6,7.

Some granola cereals have no FOP labelling at all, for example, Nature's Path Pumpkin Granola contains 8g of sugar per serving (2 tsp/ red traffic light), followed by Dorset Cereals Simply Oat Granola 7.9g per serving (2 tsp/ amber traffic light). That's almost a third of an adult's daily recommended sugar intake. However, some products actually have low levels of sugar, such as Lizi's Low Sugar Granola (1.9g of sugar per serving/ green traffic light), and should proudly display their labels on the FOP!
Whilst it is encouraging that some branded companies use the government recommended colour-coded FOP labelling including: Alpen, Honey Monster, Mornflake, Quaker Oats, Scott's and Weetabix, there are at least three different label variations used by manufacturers on their products for consumers to understand and navigate – leading to further confusion and making it difficult to compare products. In comparison, all of the nine top supermarkets have colour-coded front of pack labelling on their own-label breakfast cereals across their economy, standard and premium ranges.

Examples of products without front of pack colour-coded labelling, and what the FOP labels would look like: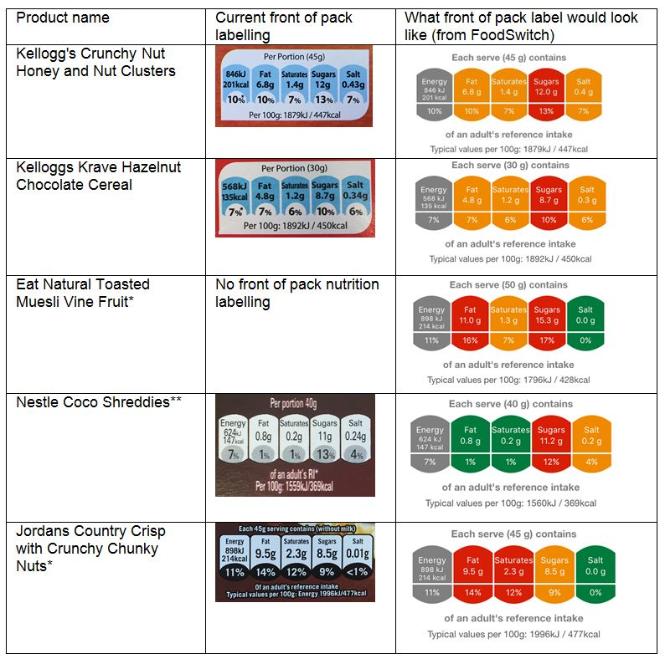 Examples of alternatives with lower levels of sugar and with front of pack colour-coded labelling: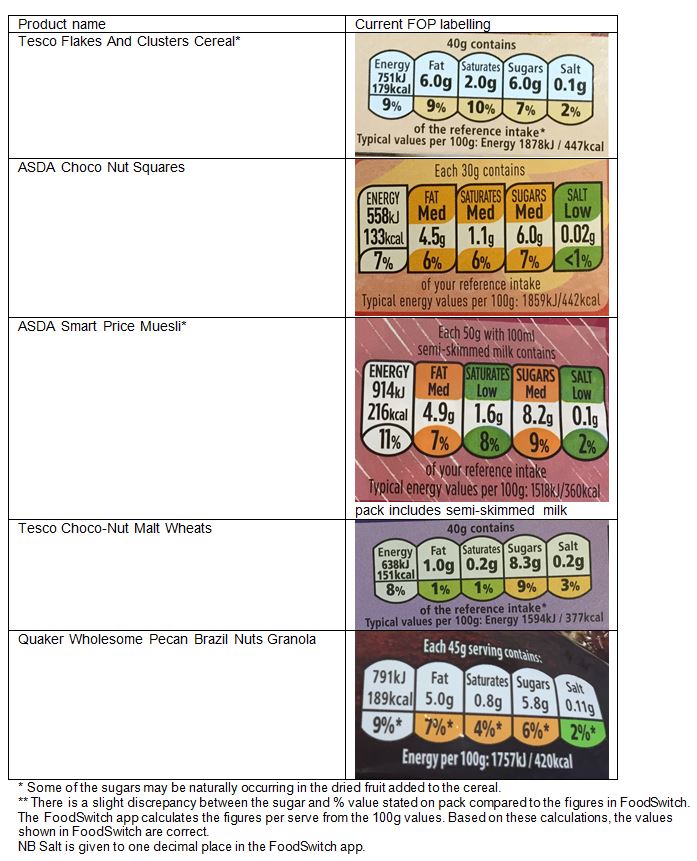 The majority of the sugars in these products is derived from 'free sugars', despite the Reference Intake referring to 'total sugars'8. Free sugars includes sugars that are added to food, as well as sugars that are naturally present in honey, syrups, fruit juices and fruit concentrates, not sugars in milk products and whole fruit & vegetables.
The colour-coded FOP labelling scheme, set up in 2013 by the Department of Health and supported by various UK health charities (including Action on Sugar), has been supported by all the major supermarkets and some manufacturers, however even some of those choose to use it selectively on some, but not all, products. All companies are being urged to adopt a consistent use of colour-coded FOP labelling, across all of their food and drink products, and to also include the figure for free sugars, which is vital for consumers to make more informed, healthier choices to help reduce consumption.
Registered Nutritionist Kawther Hashem, Researcher at Action on Sugar says: "Considering that front of pack traffic light colour-coded labelling has been recommended for years and adopted by many companies, it is frustrating that big and perceived healthier brands continue to refuse to use this form of helpful labelling.
"Consistent labels allow shoppers, at a glance, to see the huge variation in salt and sugar levels in breakfast cereals. Many of these cereals, often aimed at children, would receive a red traffic light label for being high in sugars. Companies need to reduce the sugar and salt levels now by working towards the sugar targets by 2020 and salt targets by the end of 2017 - and proudly display this on their front of pack nutrition labels."
Sarah Alderton, Nutritionist for FoodSwitch UK says, "If companies are serious about helping their customers' make healthier choices with lower salt, sugar and saturated fat, then, like the supermarkets and the more responsible manufacturers, they must consistently use front of pack colour-coded nutrition labelling. Until then, we have created FoodSwitch and SugarSwitch to show shoppers what's in their food and help them find healthier similar alternatives with less sugar, so that these companies can't hide behind poor labelling."
Katharine Jenner, Campaign Director of Action on Sugar and FoodSwitch UK says, "Shoppers should be seeing red, and they would be if manufacturers used the correct labels! It's scandalous that certain food manufacturers are still refusing to be transparent when it comes to front of pack nutrition labelling. If there is no front of pack label with one brand, shoppers should assume they are hiding something - so buy another brand instead"
Ends
For more information contact: David Clarke @ Rock PR:
E: david@rock-pr.com
M: 07773 225516
Company Responses
A Kellogg's spokesperson said: "Kellogg's complies with all EU and local labelling requirements, which set out specific rules regarding what information should be included on food labels. We strive to present this information in a way that is both legally compliant and clear and meaningful for consumers. Kellogg was one of the first companies to voluntarily adopt front of pack GDA labelling back in 2007. We use GDA labelling because we believe it gives consumers a better source of information than traffic light labels. Traffic light labelling does not take into account portion size or the role that the food plays in the diet.
"Kellogg's is committed to improving the nation's diet; our long-term sugar reduction programme has already seen sugar come down in some of our biggest brands while removing 2000 tonnes of sugar from the nation's diet by the end of 2017."
Praveen Vijh, co-founder of Eat Natural, said "Here at Eat Natural we are extremely proud of the fact that our consumers love our bars, granolas and mueslis because they offer a wholesome, sweet, delicious treat - packed with honey, dried fruits, and chunky nuts. There is plenty of information on our packaging and website which explains the ingredients and nutritional information if consumers are keen to know more.

We're always up for a chat on the phone too, if consumers still have questions about their product".
www.eatnatural.co.uk
Notes to editor:
Action on Sugar is a group of specialists concerned with sugar and its effects on health. It is successfully working to reach a consensus with the food industry and Government over the harmful effects of a high sugar diet, and bring about a reduction in the amount of sugar in processed foods. actiononsugar.org
1 About FOP colour-coded labelling
Front of pack nutrition labelling has been a simple way of encouraging people to make small changes in their diet, but not all food companies have complied –using different colours and displaying the information in different ways.
In 2013, the Department of Health and UK health charities including Action on Sugar announced a new consistent front of pack labelling system. These labels are colour-coded using the familiar colours seen on traffic lights – red, amber and green. This way, you can tell at a glance whether a food is high (red for 'stop'), medium (amber for 'think about it') or low (green for 'go!') in fat, saturated fat, sugars and salt.
Although this is a voluntary scheme, all the major supermarkets have shown their support and signed up, along with manufacturers of popular products. Others however are notably missing.
2 Survey was conducted by visiting all main supermarkets and checking the packaging in store in May 2017. The following supermarkets were visited: Aldi, ASDA, Co-operative, Lidl, Marks & Spencer, Morrisons, Tesco, Sainsbury's and Waitrose. Small sample was double checked during w/c 21st July.
3 Guide to creating a front of pack (FoP) nutrition label for pre-packed products sold through retail outlets https://www.food.gov.uk/sites/default/files/multimedia/pdfs/pdf-ni/fop-guidance.pdf
4 About FoodSwitch UK
FoodSwitch UK is a free smartphone app that enables consumers to make healthier and smarter food and drink choices – now newly updated with a new design and nutrition information given per portion - to put consumers in control whilst out shopping.
FoodSwitch UK allows users to scan the barcode of over 100,000 packaged food and drinks sold across major UK supermarkets using their smartphone camera to receive immediate, easy-to-understand 'traffic light' colour-coded nutritional information along with suggested similar, healthier products.
When the barcode of a food or drink product is scanned by a smartphone, FoodSwitch UK instantly searches its database and identifies healthier products by comparing the overall nutritional value of the product based on well researched existing criteria. The overall nutritional rating takes into account a range of different factors important to general health including fats, sugars, salt, protein and fibre. The app, developed by leading UK nutrition research experts and led by The George Institute for Global Health in partnership with Consensus Action on Salt, Sugar & Health, carries no advertising and is supported by 16 health and charitable organisations including Public Health England, Stroke Association and Heart UK.
5 Kellogg's Crunchy Nut Honey and Nut Clusters contains 26g sugars per 100g and 12g per 45g serving.
6 Tesco Flakes And Clusters Cereal contains 15.1g sugars per 100g and 6g per 40g serving.
7 If consumed daily.
8 Labels on the front of packaging will display the amount of sugars in the food as a proportion of the Reference Intake value. Reference Intakes are guidelines about the approximate amount of particular nutrients and energy required for a healthy diet. The Reference Intake for total sugars is 90g a day. "Total sugars" describes the total amount of sugars from all sources (free or 'added' sugars plus naturally occurring sugars). This breaks down further into 30g of "free sugars" (sugars added to foods and drinks by the manufacturer plus sugars naturally present in honey, syrups and fruit juice), as well as 60g naturally occurring sugars from milk-based products, whole fruit and vegetables. However, nutrition labels tell you how much total sugar a food contains, they don't tell you the amount of "free sugars". This means that food containing lots of fruit or milk will be a healthier choice than one that contains lots of free sugars, even if the two products contain the same total amount of sugars. You can tell if the food contains lots of added sugars by checking the ingredients list and looking for ingredients such as 'sugar', 'fruit juice concentrates', 'glucose-syrup', 'invert sugar syrup', 'golden syrup' and 'honey'.