Sugar Awareness Week: What's The Deal? NEW Findings Reveal Lunchtime Meal Deals Serve Up FOUR Full Days' Worth of Sugar in Just One Meal
30 October 2017
NEW shock survey reveals certain lunchtime meal deals sold by supermarkets and retailers contain up to 30 TEASPOONS of sugar – that's the amount of sugar in 79 chocolate fingers
7 out of 10 (72%) meal deal drinks sold in Morrisons are HIGH (red) in sugar
Call for all 'high' sugar drinks and confectionery to be banned from popular meal deal promotions
As part of Sugar Awareness Week, Action on Sugar is calling for the Government to take action against retailers who continue to use price promotions on unhealthy foods
Meal Deals Survey Media Coverage
Action on Sugar based at Queen Mary University of London is calling for supermarkets and retailers to take responsibility for the large amounts of sugar they're selling to consumers by excluding all 'high' sugar1 drinks and confectionery (ie those that would have a 'red' traffic light label) sold as part of their popular meal deals. A NEW survey by the leading sugar and health expert group has revealed certain food and drink combinations2 contain a staggering 30 teaspoons of sugar, which is more than four times an adult's DAILY maximum intake of 'free' sugars3 (30g / 7 tsp) in just a single lunch.

From the meal deals surveyed, the combination containing the highest amount of sugar is from WHSmith which includes a sandwich plus the option of a Mountain Dew Citrus Blast 500ml drink and a bag of Skittles Crazy Sours which contains an extraordinary 30 teaspoons of sugar – equivalent to the amount of sugar in 79 chocolate fingers!4 In fact, if someone was to consume this meal deal every day over a working week, this would equate to a whopping 150 teaspoons of sugar (595g); more than a 1lb bag of sugar!5

Other shocking combo examples include:
Tesco Smokehouse Pulled Chicken with Mesquite Style Sauce with a Monster Energy 500ml drink and Mars Duo –with 30 teaspoons sugar, that's the same amount of sugar found in approximately 16 double chocolate mini muffins.6
Morrisons' Sweet Chilli Chicken Wrap with Relentless Passion Punch Energy 500ml drink and Millionaire Shortbread is not far behind, with 28 teaspoons of sugar and 1048 kcal.
Co-op Meal Pot Blackbean Pulled Beef & Noodle with Rockstar Blueberry Pomegranate Acai energy 500ml drink and Rocky Road Bar with 28 teaspoons of sugar and 855 kcal.
Whilst the findings, launched to coincide with Sugar Awareness Week (30th October – 5th November), reveal that low sugar meal deal options are available with some combinations containing less than one teaspoon of sugar, the majority of retailers are failing to promote healthy choices to their consumers. 72% of meal deal drinks sold at Morrisons are high (red) in sugar per drink7 compared to 38% at M&S which offers the lowest percentage of high sugar drinks.8 Some drinks alone contain up to 70g of sugar and are frequently offered in 500ml portions, which equates to two servings, despite being sold as part of a lunch meal. In addition, WHSmith's are not even providing healthy snack options i.e. fresh fruit as part of their meal deals.

As well as excluding high sugar drinks, chocolate and sweets from meal deals, if retailers really want to encourage customers to make healthy choices, they should also consider not offering any other high (red) sugar products along with those high in salt and saturated fat9 as part of meal deals and increase the range of healthier choices.

Graham MacGregor, Professor of Cardiovascular Medicine at Queen Mary University of London and Chairman of Action on Sugar says, "Eating too much sugar is linked to obesity, type 2 diabetes, cancer and tooth decay. Supermarkets pretend to be on the side of their customer's health to encourage loyalty, but this survey clearly shows that they are not. The government now needs to take decisive action to ban all promotions of unhealthy foods."

Registered Nutritionist Kawther Hashem, Researcher at Action on Sugar explains, "These excessively high sugar combos can have a detrimental effect on people's health, particularly if eaten daily. It is staggering that by just making simple swaps at lunchtime, you can reduce your sugar intake by a massive 29 teaspoons of sugar. Often it is the drinks included in the meal deals which are extremely high in sugar. The majority of the retailers have more high sugar drinks as part of meal deal promotions than lower sugar drinks; this is not giving consumers enough healthier choices. Retailers could easily replace these with lower or no sugar options, at no extra cost."

Registered Nutritionist Jenny Rosborough and Campaign Manager at Action on Sugar adds,"It is time the government ensured that price promotions, including meal deals, only include healthier options. This year's Sugar Awareness Week highlights just how much sugar is included on price promotion, which has been proven to make people buy more.10 The government has been running scared of the food industry for far too long, having eliminated price promotions from last year's Childhood Obesity Plan.11 Meanwhile, last week Scotland announced plans to restrict the promotion of food and drink high in fat, sugar and salt.12 If the UK government care about our nation's health, they need to tackle this head on and take action now."

Tips for choosing healthier meal deals:
Use the FoodSwitch UK app to find healthier choices – simply scan the barcode of your regular brand to get colour coded nutrition information and see a list of healthier alternatives. You can use the SugarSwitch filter to find products lower in sugar!
Choose products with front of pack traffic light colours - pick products that are amber or green for sugar, salt and saturated fat
Choose fruit or vegetables for the snack option
Choose water or sugar-free drinks or smaller portions of fruit juice or smoothie for the drink option
Industry Responses

Gavin Partington, Director General at British Soft Drinks Association says: "The soft drinks industry recognises it has role to play in sugar reduction which is why we have been investing in reformulation for many years. Since 2013 we have reduced sugar intake from our products by 17%. As well as reformulating our products, we have increased the range of portion sizes available to include smaller pack sizes; we have switched marketing spend to lower and no sugar products; and we provide clear 'front of pack' nutrition labelling. As an industry we remain committed to working with Government to help consumers make informed choices."
Ends

For more information contact: David Clarke @ Rock PR:
E: david@rock-pr.com
M: 07773 225516

Notes to editors
Action on Sugar is a group of specialists concerned with sugar and its effects on health. It is successfully working to reach a consensus with the food industry and Government over the harmful effects of a high sugar diet, and bring about a reduction in the amount of sugar in processed foods. actiononsugar.org
Action on Sugar surveyed a small proportion of meal deals and all drinks available on meal deal promotions in WHSmith, Tesco, Sainsbury's, Morrisons, M&S, Boots and The Co-operative. Data was collected in store (September-October 2017).

1 Colour coding based on front of pack colour-coded nutrition labelling criteria for drinks (Sugars - Red >13.5g/portion or >11.25g/100ml, Amber >2.5≤11.25/100ml, Green ≤2.25g/100ml)
2 Examples of high and low meal deal combos available at each retailer, sorted according to highest total sugars per meal deal combo - where the drink included in a meal deal is labelled as two serving (500ml), we doubled the sugars content per labelled serving: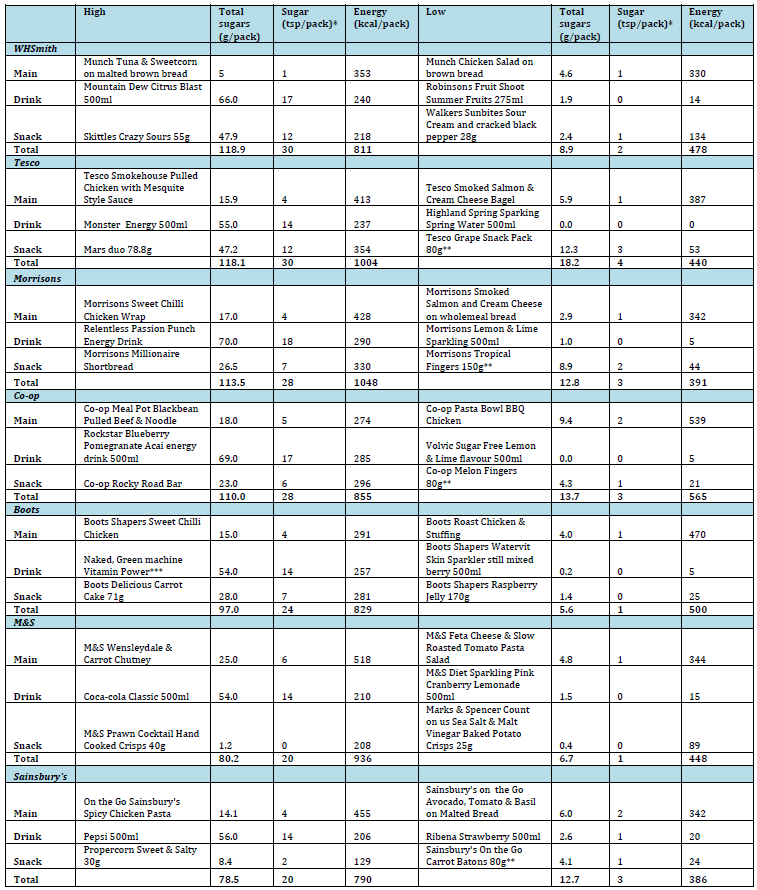 * Teaspoons is 4g sugar, and rounded to the nearest full number
**Sugars from whole or sliced fruit and vegetables do not contribute to the maximum intake of free sugars
*** The sugar in fruit juices are defined as free sugars

3 'Free' sugars include those sugars found naturally in fruit juices, honey and syrups, plus sugars which are added to food and drink. Sugars contained naturally within the cell structure of whole-foods, such as fruit and vegetables, or lactose naturally present in milk and dairy products are NOT defined as free sugars.
4 Cadbury Fingers Milk Chocolate Biscuits contain 1.5g sugar per finger/ 28.9g per 100g https://www.tesco.com/groceries/product/details/default.aspx?id=292128754
5 One pound of powdered sugar converted to gram equals to 453.59g
6 Tesco Double Chocolate Mini Muffins contain 7.6g sugar per muffin/31.6g per 100g https://www.tesco.com/groceries/product/details/default.aspx?id=266281760
7 We have used the sugar content of the whole drink as the serving size, as that is what would be consumed. Serving is defined as 500ml or below i.e. the content of a single carton, bottle or can included as part of a meal deal
8 The percentage of drinks available on meal deals that exceed 13.5g per serving at each retailer, and would be labelled as 'high' in sugar



9 Colour coding based on front of pack colour-coded nutrition labelling criteria for food
- Salt - Red >1.8g/portion or >1.5g/100g, Amber >0.3g to ≤1.5g/100g, Green ≤0.3g/100g
- Saturated fat - Red >6.0g/portion or >5.0g/100g, Amber >1.5g to ≤5.0g/100g, Green ≤1.5g/100g
- Total sugars - Red >27g/portion or >22.5g/100g, Amber >5.0g to ≤22.5g/100g, Green ≤5.0g/100g
10 Public Health England, Sugar reduction: From evidence into action (October, 2016) https://www.gov.uk/government/publications/sugar-reduction-from-evidence-into-action
11 Department of Health, Childhood obesity: a plan for action (August, 2016)
https://www.gov.uk/government/publications/childhood-obesity-a-plan-for-action
12 Scottish Government, A Healthier Future – Action and ambitions on diet, activity and healthy weight. Consultation Document (October, 2017)