Experts Call for Honest Labelling on So-Called 'Healthy' Fruit Snacks Loaded with Sugars and Misleading Claims
'HEALTHY' fruit snacks are loaded with sugars – with some containing the equivalent of nearly 5 teaspoons (per serving) – according to NEW product survey by Action on Sugar
65% of products had the equivalent of 2 teaspoons of sugars or more in just one single portion – the same as eating an iced doughnut1
91% of products had NO front of pack traffic light label yet ALL featured claims implying they were 'healthy'
Experts call for a ban on the use of dishonest packaging claims AND for front of pack labelling to be compulsory on all processed food and drink
Processed

Fruit

snacks

are

contributing

to

tooth

decay

which

is

at

a record

high

–

nearly

180

operations

a

day

are

carried

out

to

remove children's rotten teeth
Action on Sugar Processed Fruit Snacks Survey Report 2020 [PDF 1,256KB]
Fruit Snacks 2020 Data [PDF 200KB]
Click here for Media Coverage
Leading health experts, Action on Sugar are today calling for the UK Government to ensure that its current consultation on Front of Pack Labelling (FOPL) in the UK results in mandatory FOPL that reflects the latest dietary advice on free sugars2 (not total sugars). This comes after worrying new data reveals so-called 'HEALTHY' fruit snacks for children can contain nearly as much as 5 teaspoons of sugars per serving – the equivalent of eating a packet of jelly beans3. The group is also calling for a ban on the use of misleading claims* such as '1 of your 5 a day', 'Naturally occurring sugars' or 'Made from real fruit'.
ALL products surveyed would have received a RED traffic light front of pack label for HIGH sugars, meaning they are not a healthy snack choice. Furthermore, many of these products are wrongly advertised as 'snacks' despite guidance that children should not consume these products in between meals, and that they are not permitted in schools because they are categorised as 'confectionery'4.
Processed dried fruit products are marketed as 'healthy snacks' due to their high fruit content. However, the sugars in these products are categorised by Public Health England as 'free sugars' as they contain purees, concentrates, juices and extruded** fruit or added sugar by coating or flavouring dried fruit – all of which can contribute to obesity, Type 2 Diabetes and tooth decay.
With current labelling based on total sugars5 (i.e. free sugars found in processed fruit, table sugar, honey etc as well as sugars from unprocessed fruits, vegetables and milk that are not harmful) – many parents are mistakenly buying these processed fruit snacks assuming they contribute less of the 'unhealthy' sugars than they actually do. What's more, the current labelling gives an 'allowance' of 90g of sugars per person which is based on an adult's intake and not a child's6.
*Whilst these claims are legal they have been shown to be misleading by creating a 'health halo' and discouraging
shoppers from scrutinising the label more thoroughly.
**Extrusion is used in food processing, mechanically shaping soft mixed ingredients to produce the required shape.
For example, Tesco Apple & Sultana Bars claim to be 20% of your daily intake of sugars when in fact at 18.4g, they contain nearly 5 teaspoons of free sugar, nearly the recommended daily maximum allowance for a 4-6-year-old in just one bar.
Analysing the wider data, of the 56 coated, flavoured, processed or extruded fruit- based products sold across leading grocery retailers:
A whopping 57% of products have more free sugars than Haribo Starmix7 confectionary per 100g – with one product (Kiddylicious Apple Fruit Wriggles 12g) made of 70% sugars
65% had the equivalent of 2 teaspoons of sugars or more in just one single portion – the same as eating an iced doughnut1.

ALL products surveyed would receive a RED traffic light label for HIGH sugars
Examples of high sugars fruit snacks: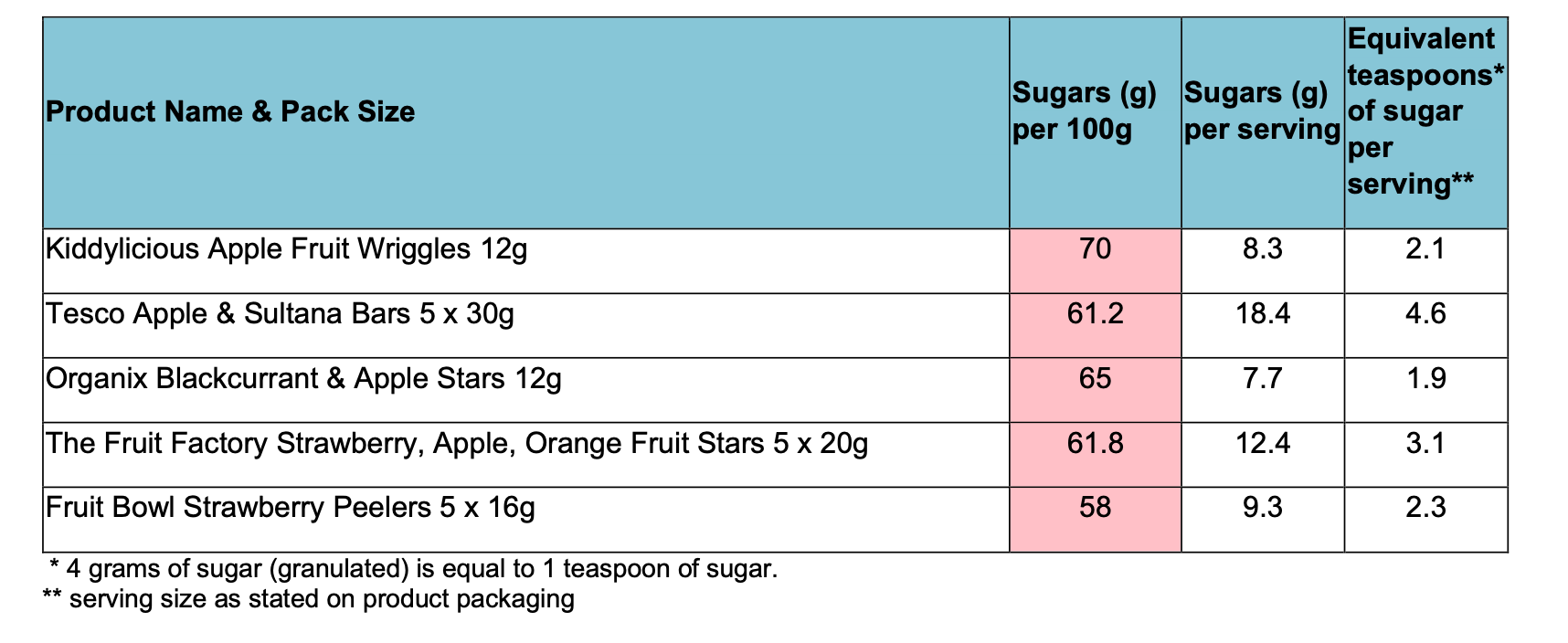 When comparing fruit snack products from Action on Sugar's 2015 survey8 to all available comparable products, these new findings have shown that whilst progress has been made in reducing the overall sweetness in certain products by using vegetables as well as fruit, some now worryingly appear to be HIGHER in free sugars than in 2015.
Examples of products that have increased in sugar since 2015:

The popular Bear products have made reductions across all comparable products (an average of around 16% lower than in 2015) which is to be applauded. However, the use of several health claims on their packaging, and lack of traffic light labelling (for which they would still get a 'red' for high sugars), means they are still being sold under a misleading health halo.
As the latest figures (announced last month) by the Local Government Association9 showed nearly 45,000 hospital operations were performed to remove rotten teeth, this is a stark reminder that too much sugar in children's diets can have dire consequences – with many suffering agonising pain and emotional suffering all at very young ages. What's most concerning is this is all entirely preventable.
Graham MacGregor CBE - Chairman of Action on Sugar, Professor of Cardiovascular Medicine, Queen Mary University of London says:
Whilst the Government gets to grips with the current Covid-19 pandemic, it mustn't ignore that the situation is fuelling the UK's other pandemics – obesity, Type 2 Diabetes and tooth decay – all linked to high sugar intakes which the food industry is solely responsible for. It's imperative that whichever organisation takes over from Public Health England, ensure comprehensive and compulsory reformulation targets are set across the whole of the food industry to gradually reduce the amount of sugar and excess calories in food and drink."
Katharine Jenner - Campaign Director of Action on Sugar, Queen Mary University of London says:
"The message to food manufacturers is quite simple: Stop tricking parents into thinking your products are healthy. The only information about nutrition that should be on children's foods is the nutrition information panel and the colour-coded ('traffic light') front of pack label. However, manufacturers are hiding behind health halos of messages such as 'made with real fruit' and 'no added sugars' to obscure the fact that processed fruit-based snacks are as unhealthy as sweets and sugary drinks. Parents are struggling to feed their children healthy food already without
manufacturers making the process even more confusing. It's time to be honest about what's in your products and remove these claims."
Holly Gabriel – Registered Nutritionist and Nutrition Manager at Action on Sugar adds:
"This survey has exposed the huge amounts of sugar in these processed fruit snacks which should all be clearly referenced with mandatory front of pack labelling. Not only does the UK have very high rates of children living with obesity but also record numbers of children suffering from tooth decay which causes excruciating pain and suffering and often results in teeth being extracted. These processed fruit products should not be eaten in between mealtimes, children should be encouraged to snack on whole fruits and vegetables and not excessively sweet products that damage teeth."
Dr Saul Konviser from charity, Dental Wellness Trust says:
"Parents be warned. These so called 'healthy' fruit snacks can bind and trap sugars on and around the tooth making children's teeth more susceptible to tooth decay – especially as they are less likely to floss or brush their teeth – which are also much thinner in density. Whilst these fruity snacks may be convenient, they are not a healthy option – nor tooth friendly."
Sheena Bhageerutty – Assistant Nutritionist at Action on Sugar adds:
"These products line the shelves of the 'baby and child' aisle in supermarkets with attractive packaging designed to appeal to new parents. However, the nutritional information is hidden on the back of the packaging making it unclear to tell at a glance if they are a good choice or not. Our research has uncovered the truth that, based on their high sugars content, these fruit snacks would be better placed in the confectionery aisle."
Mick Armstrong, Chair of the British Dental Association said:
"Parents are being misled into thinking they are offering their kids a 'healthy option' between meals. Raisins and other dried fruits are laden with free sugars and also stick to teeth, which can cause rampant decay. Too many children are undergoing entirely preventable tooth extractions in our hospitals. Clearer mandatory labelling on food packaging would help parents to understand the true sugar content and danger to health posed by these seemingly innocent snacks."
Barbara Crowther, Children's Food Campaign Co-ordinator, said:
"Parents tell us that claims such as "no added sugar" and "one of your 5 a day" on processed fruit snacks containing significant free sugar levels are incredibly confusing and misleading. These products are carefully branded and also often marketed with cartoon characters to give parents the impression they are suitable and healthy for their children. But this research shows clearly that many of them contain similar levels of free sugars as sweets and biscuits. We strongly support recommendations to make nutritional labels clearer and mandatory, as well as address the use of misleading health claims and child-friendly characters on food and drink packaging."
Dr Helen Crawley, Director, First Steps Nutrition Trust said:
"Just as we found in our report on processed dried fruit snacks aimed at young children in 2018 the market continues to allow families to be misled about the healthiness of these products. Many of the processed fruit snacks are designed to appeal to very young children, where the amount of sugars they contain can easily exceed the amount recommended daily for good health. We fully back an urgent change in labelling laws for foods marketed to children to ensure they do not mislead parents that they are fruit equivalent".
Marie Farmer, Parent & Founder of Mini Mealtimes said:
"A large number of products targeted towards children have sugar, fat or salt levels that are over recommended limits for children of all ages. Busy parents have no context when they look at nutrition labels and have to rely on the claims on packaging. Unfortunately, current nutrition labels are formatted for an adult's average intake. This is unhelpful as children's nutritional needs change consistently year on year. Claims like no added sugar, all-natural ingredients, this is high in fibre etc are all parents have time to focus on before they make a decision to buy these products.
When this is brought to their attention most parents are shocked and feel some brands have abused the trust they've given them and many vow to change their shopping habits. It's encouraging to see newer brands are making a commitment from the start to use clearer marketing claims so parents can be more informed but official guidance should be published so this is consistent across all products."
Danielle Edge, Policy & Public Affairs Manager at World Cancer Research Fund, said:
"Children have the right to the highest attainable health, and that includes access to healthy food, but how can parents provide this when they are misled on which foods are actually healthy? 1 in 5 children are overweight or obese when they start primary school, rising to 1 in 3 by the time they leave primary school. Overweight or obese children are more likely to be overweight or obese adults, putting them at a greater risk of at least 12 different types of cancer. This is an issue that needs to be tackled and food companies have a duty to act responsibly. It is therefore crucial that governments ensure people have all the information they need to make healthy decisions, including making front-of-pack labelling easy to understand and compulsory."
Ends
For more information contact: David Clarke @ Rock PR: E: david@rock-pr.com M: 07773 225516
Notes to editors:
Action on Sugar is a group of specialists concerned with sugar and its effects on health. It is successfully working to reach a consensus with the food industry and Government over the harmful effects of a high sugar diet, and bring about a reduction in the amount of sugar in food and drink products.
Products surveyed:
Coated/Flavoured dried fruit (e.g. yogurt coated raisins, sour raisins)

Processed/extruded fruit (e.g. fruit winders, fruit strings)
NB: Including those with added sugar as well as those that claim 'no added sugar'
Products excluded:
Whole dried fruit (e.g. whole dried apricots)

Fruit Crisps (Dried apple crisps)

Dried fruit with additions (e.g. oat bars, fruit and nut bars, puffs, wafers)

Chocolate coated fruit and chocolate coated extruded fruit
Action on Sugar purchased 56 products (where products in store were available) from Tesco, Sainsbury's, Waitrose & Partners, Asda, Morrisons Marks & Spencer, Aldi, Lidl, Co- op, Boots, Holland and Barrett and Iceland between 24th August and 5th September 2020.
References
1 One Tesco Pink Ring Doughnut contains 8.5g sugar per doughnut: https://www.tesco.com/groceries/en- GB/products/255874565
2 Swan et al, 2018. A definition of free sugars for the UK:
https://www.ncbi.nlm.nih.gov/pmc/articles/PMC5962881/
Free sugars include:
all added sugar (including honey, syrups and nectars) whether that is added during manufacturing or after

lactose and galactose added to food and drinks

all sugars in juice (excluding dairy-based drinks)

all sugars naturally present in fruit and vegetable juices, concentrates, smoothies, purées, pastes, powders and extruded fruit and vegetable products.
3 Jelly Belly Jelly beans (35g) contain 21g sugar: https://www.jellybelly.co.uk/sours-mix-35g-box
4 UK Government, School Food Standards, 2019: https://www.gov.uk/government/publications/school-food- standards-resources-for-schools
5 Current labelling gives an 'allowance' of 90g of sugars per person per day. This is called a Reference Intake (RI). The 90g sugar figure is based on total sugars.
6 The recommended daily maximum of free sugar for a 4-6 year old (19g), 7-10 year olds (24g) and anyone over 11 years (30g).
7 Haribo Starmix contains 47g sugar/100g: https://www.tesco.com/groceries/en-GB/products/296527068
8 Action on Sugar, 2015: http://www.actiononsugar.org/surveys/2015/fruit-snacks/#d.en.751328
9 Local Government Association, 2020: https://www.local.gov.uk/lga-nearly-180-operations-day-remove-rotten- teeth-children