22 March 2018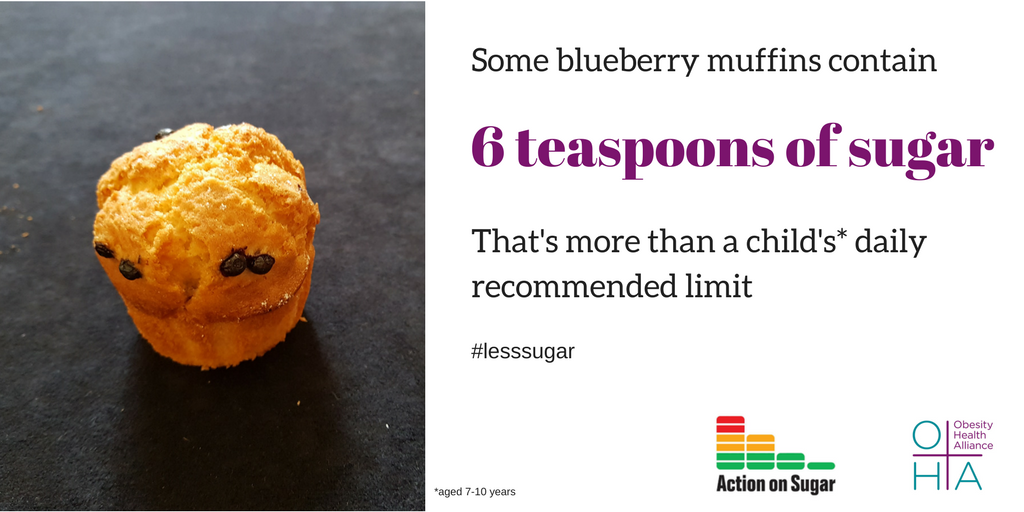 Campaigners call for less sugar and clear nutrition labelling as new analysis shows huge variation in sizes and sugar content of popular snack
Click here to view the full report: Blueberry Muffins Report [PDF 503KB]
Click here to view media coverage
New analysis by Action on Sugar and the Obesity Health Alliance (OHA) shows huge variation in sugar content, portion size and lack of nutrition labelling on blueberry muffins sold at out of home outlets in the UK's busiest train stations and supermarkets. The two groups are calling for manufacturers to reduce sugar, in line with the Government's plans to cut sugar in common products by 20% by 2020.
On average, muffins bought on-the-go at railway station food outlets had 19% more sugar per portion and were 32% bigger than those bought in supermarkets. While, 61% (17 out of 28) of all the muffins included in the survey contained six teaspoons of sugar or more, which is the upper daily limit for a child aged 7-10 years.
There is also lack of nutrition labelling on products sold at popular outlets in train stations (AMT Coffee, Camden Food Co., Delice de France, Patisserie Valerie, Pumpkin, Ritazza and Upper Crust)1 and in supermarket bakeries, meaning consumers are in the dark about exactly what they're eating.
There is a huge variation in the sugar content, from Costa Blueberry Muffin with a staggering equivalent to 10 teaspoons per muffin2 (more than in a can of full sugar cola)3, followed by McDonalds Blueberry Muffin with 8 teaspoons4 and Pret A Manger Double Berry Muffin with 8 teaspoons5 – compared to 3 teaspoons each in M&S 4 Blueberry Muffins and 4 teaspoons per muffin in Co-op Bakery 4 Blueberry Muffins.
Caroline Cerny, Obesity Health Alliance Lead, said: "We may think grabbing a blueberry muffin is a reasonably healthy option for a snack on the go compared to other cakes or a chocolate bar – yet the figures suggest otherwise. There is huge variation in both the size of muffins and the sugar content; and with limited nutrition labelling it's all too easy to eat a huge amount of sugar in just one serving.
"Some of the muffins on sale have twice as much sugar than others. This shows that it is possible for industry to significantly reduce sugar even in their most sugary products to help us all make healthier choices. Industry must step up to the plate and take responsibility for making the food they produce healthier."
It is recommended that children aged 4-6 years have no more than the equivalent of 5 teaspoons of sugar per day, no more than 6 teaspoons for those aged 7-10 years and no more than 7 for those aged 11 years and upwards6. Adults are also advised not to consume more than the equivalent of 7 teaspoons a day7 – less than the amount found in a Costa blueberry muffin.
Registered Nutritionist Kawther Hashem from Action on Sugar, said: "During the Easter holidays, if families are travelling through these busy stations and were to buy blueberry muffins from one of the outlets available, those kids would likely be consuming almost their entire recommended limit of sugar that day, if not more. And worryingly, it's very difficult to know exactly what's in these products as there is often no clear nutrition information at the point of sale."
Campaigners also raised concerns about supermarket products, which they found lacked nutrition information per portion – and some, particularly in-store bakery products, did not contain traffic light nutrition labelling.
Kawther continued: "This analysis shows just how difficult it can be for consumers to make informed choices when it comes to buying food on the go. It is time all out of home outlets are made to be transparent about the nutrition content of their products by making nutrition labelling available to consumers at the point of sale."
The Obesity Health Alliance and Action on Sugar are backing the Government's sugar reformulation programme and urge all food manufacturers, retailers and the out of home sector to reformulate their products to meet PHE's 20% reduction target by 2020. They are also calling for front-of-pack traffic-light nutrition labelling to be mandatory across all products, including the out of home sector.
ENDS
For further information or to speak to representatives from the Obesity Health Alliance or Action on Sugar, please contact:
Melissa Milner melissa.milner@rcpch.ac.uk / 0207 092 6005
Table 1: Sugar content in blueberry muffins
Brand/retailer/ outlet

Product name

Portion

size (g)

Sugars (g)

per 100g

Sugar (g)

per muffin

Sugar (tsp)*

per muffin

Nutrition information available (Y/N)

Costa

Blueberry Muffin

122

33.0

40.3

10

Y – online

Y (calories) – POS

McDonalds

Blueberry Muffin

not stated

not provided

32.0

8

Y – online
Y (calories) - POS

Pret A Manger

Double Berry Muffin

124

24.6

30.5

8

Y – online
Y (calories) - POS

Caffe Nero

Blueberry Muffin

115

25.3

29.1

7

Y – online
Y (calories) - POS

Tesco

Blueberry Muffins 4 Pack

82

35.4

29.0

7

Y – online

Starbucks

Blueberry Muffin

122

21.6

26.3

7

Y – online
Y (calories and sugar) - POS

Genius

Blueberry Muffin

95

27.1

25.7

6

Y

Patisserie Valerie***

Blueberry Muffin

122

20.9

25.7

6

N

Waitrose

Deep Filled Blueberry Muffin

not stated

22.6

25.5

6

Y - online

EAT

Berry & Granola muffin

115

21.0

25.0

6

Y – online
Y (calories and sat fat) - POS

AMT Coffee***

Blueberry Muffin

115

21.1

24.7

6

N

Ritazza***

Blueberry Muffin

113

21.2

24.3

6

N

Benugo

Blueberry Muffin

not stated

not provided

23.9

6

Y

Tesco

Triple Berry Muffin

103

23.0

23.7

6

Y

Camden Food Co.***

Blueberry Muffin

122

18.8

23.0

6

N

Upper Crust***

Blueberry Muffin

121

19.0

22.7

6

N

Co Op

Bakery 4 Blueberry Muffins

80

27.0

22.0

6

Y

Sainsbury's

Bakery Blueberry Muffins x 4

86

23.8

21.9

5

Y

Waitrose

Wild Blueberry Muffins

not stated

20.8

21.8

5

Y

Sainsbury's

Deliciously Freefrom Blueberry Muffin

70

27.8

20.9

5

Y

Sainsbury's

Blueberry Muffins by Sainsbury's

67.5

27.8

20.0

5

Y

Rowan Hill Bakery (Lidl)

Blueberry Muffins

72

27.5

19.8

5

Y

Delice De France***

Blueberry Muffin

97

19.3

18.7

5

N

Pumpkin***

Blueberry Muffin

92

20.1

18.3

5

N

ASDA

Baker's Selection 4 Blueberry Muffins

not stated

25.0

18.0

5

Y

Holly Lane (Aldi)

4 Blueberry Muffins

75

25.0

18.0

5

Y

Co Op

Bakery 4 Blueberry Muffins

64

26.0

17.0

4

Y

M&S

4 Blueberry Muffins

65

21.0

13.7

3

Y

Lidl

Filled blueberry Muffin

not stated

25.8

not provided

n/a

Y**

Morrisons

Market St 4 Blueberry Muffins

not stated

22.9

not provided

n/a

Y**

Tesco

4 Blueberry Muffins

not stated

23.6

not provided

n/a

Y**
*1 tsp = 4g
**Nutrition information given per 100g only, not per muffin
*** data for these outlets are average figures
POS = Point-of-sale
References
Survey details – 3 blueberry muffins were purchased from seven coffee outlets found at the busiest train stations in the UK who did not provide nutrition information online or in store (AMT Coffee, Camden Food Co., Delice de France, Patisserie Valerie, Pumpkin, Ritazza and Upper Crust). Samples were collected w/c 8th

Jan 2018 and sent to Kent Scientific Services for analysis to measure the sugar content per muffin. An average sugar value for each outlet was calculated based on the results and this is the figure presented in the main data table. Nutrient values for other outlets found at these stations (Caffe Nero, Costa, Starbucks, EAT, Pret A Manger, Benugo and McDonald's), were obtained online from their respective websites on 1st

March 2018. Data for supermarket muffins was collected in stores or online from each of the nine major supermarket chains (Aldi, ASDA, Co-Op, Lidl, Marks & Spencer, Morrisons, Sainsbury's, Tesco and Waitrose) in January and February 2018 by capturing images of the nutrition information on pack.
Costa's Blueberry muffin contains 40.3g sugar, equivalent to 10 teaspoons

https://www.costa.co.uk/nutrition/Costa-ANI-data-January-2018.pdf
A 330ml can of Coca Cola Classic contains 35g of sugar, equivalent to 9 teaspoons

https://www.coca-cola.co.uk/drinks/coca-cola/coca-cola
McDonalds Blueberry Muffin contains 32g sugar per muffin, equivalent to 8 teaspoons

https://www.mcdonalds.com/gb/en-gb/product/blueberry-muffin.html
Pret A Manger's Double Berry Muffin contains 30.5g sugar per muffin, equivalent to 8 teaspoons

https://www.pret.co.uk/en-gb/539-sweet-treats-double-berry-muffin.aspx
The maximum daily amounts of free/added sugars for children is between 5-7 teaspoons

https://www.nhs.uk/change4life/food-facts/sugar
The maximum daily amount of free/added sugars recommended for adults is 7 teaspoons

https://www.nhs.uk/Livewell/Goodfood/Pages/sugars.aspx#how-much