Food Industry Must Share Blame for Both the Obesity Pandemic AND Severity of COVID-19 Disease – according to an Editorial published in the BMJ
Published:
Embargoed until 10 June 2020, 23.30 hours (UK time)
Increasing evidence is now demonstrating that obesity is an independent (and modifiable) risk factor for more severe illness and death from COVID-19, according to a NEW editorial by researchers at Queen Mary University of London, including Action on Sugar Chairman, Professor Graham MacGregor CBE - published today in the British Medical Journal (BMJ).
The editorial (Obesity and COVID-19: the role of the food industry), which suggests that multiple mechanisms could explain the relationship between obesity and COVID-19, makes it clear that the food industry shares the blame not only for the obesity pandemic, but also for the severity of COVID-19 disease and the devastating consequences of the COVID-19 outbreak.
The authors are today calling for governments to force the food industry to take out the huge and unnecessary amount of sugar, saturated fat, and salt they add to our food and drinks and only promote healthy foods. This would improve the diet of the entire population and bring even greater benefits for those more socially deprived.
In the UK, individuals who were overweight or obese made up 78% of the confirmed COVID-19 infections and 62% of the COVID-19 deaths in hospitals. Linking UK COVID-19 data to that of a population cohort (428,225 participants, 340 confirmed COVID-19 hospital cases) and to electronic health records (17,425,445 participants, 5,683 COVID-19 deaths) have shown a dose-response relationship between excess weight and severity of COVID-19, i.e. the more severe the obesity, the more likely the individual is to be hospitalised for COVID-19 and/or die from it.1,2 After adjusting for potential confounding factors including age, sex, ethnicity, and social deprivation, the risk of critical illness from COVID-19 increased by 44% for those who were overweight, and almost doubled for those with obesity. Similarly, the risk of dying from COVID-19 increased with the severity of obesity, with more than twice the risk in the most obese category. Smaller studies from the Asia-Pacific Region, Europe, and the United States confirmed these findings.
Several mechanisms could explain the relationship between obesity and COVID-19, as obesity:
- Leads to larger quantities of ACE2 in the body – the enzyme exploited by the virus for cell entry;
- Diminishes the immune response;
- Reduces lung function.
The obesity pandemic is not the fault of individuals, but the result of living in a food environment where it is very difficult not to over-consume calories; putting us at a much higher risk of type 2 diabetes, strokes, heart disease, cancer, and now COVID-19.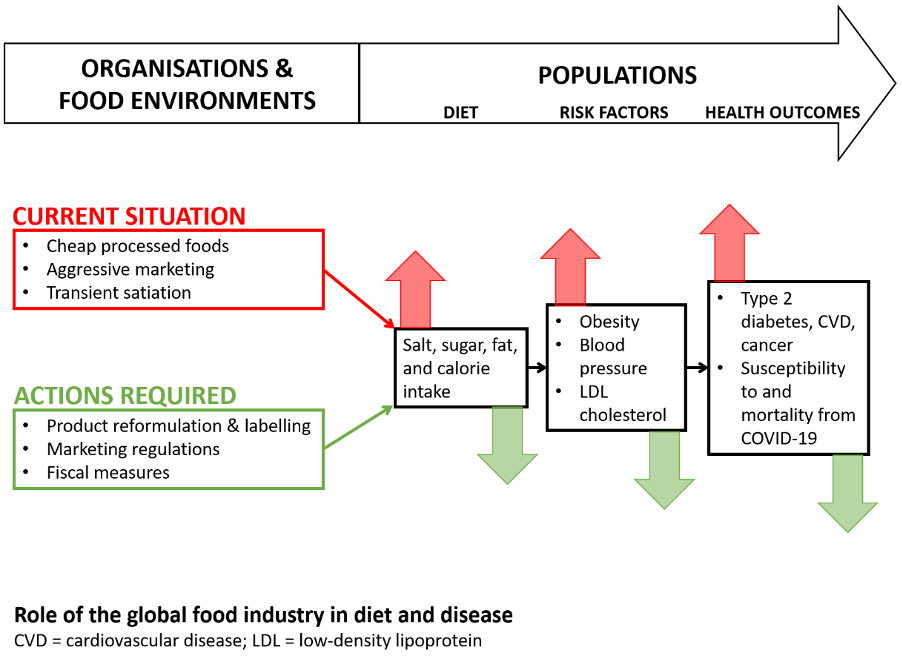 Governmental measures to address unhealthy diets have been put on hold due to the COVID-19 outbreak. Paradoxically, it is now imperative for Governments and the food industry to take maximum action to get people to eat more healthily to reduce further deaths from COVID-19, say the authors.
Graham MacGregor CBE - co-author of the study and Professor of Cardiovascular Medicine at Barts and The London Hospital, says:
"Unlike most other risk factors identified for COVID-19 such as age, sex and ethnicity – obesity is a modifiable risk factor. This is why governments worldwide must seize the opportunity to help people to eat more healthily and enforce measures to restrict the promotion, marketing, and advertising of unhealthy foods and ensure their reformulation to contain far less salt, sugar, and saturated fat. This would reduce mortality from this vicious virus and many other chronic diseases."
Monique Tan, co-author of the study and PhD Researcher at Queen Mary University of London says:
"Obesity is the major cause of type 2 diabetes which, in itself, is another potentially modifiable risk factor for more severe COVID-19. However, long planned and awaited governmental measures to address this have been put on hold due to the COVID-19 outbreak, at a time when they have never been more necessary. We urge the UK government to implement Action on Sugar's evidence-based plan (presented to the Prime Minister two weeks ago).3"
Feng He, co-author of the study and Professor of Global Health Research at the Wolfson Institute of Preventive Medicine says:
"The world is facing two pandemics. One immediately, COVID-19 and the other a longer-term crisis with obesity. Clear evidence has emerged that the two pandemics interact. This is a major opportunity for governments and the food industry to prevent unnecessary suffering and death worldwide."
Ends
For more information contact: David Clarke @ Rock PR:
E: david@rock-pr.com M: 07773 225516
Notes to editors:
Action on Sugar is a group of specialists concerned with obesity and its effects on health. It is working to reach a consensus with the food industry and Government over the harmful effects of excessive calories, sugar, fat, and salt in processed and out-of-home foods, and to take evidence-based action to ensure that we all consume much healthier foods.
Action on Sugar & Action on Salt evidence-based plan: https://bit.ly/3dPttaN
Embargoed link to editorial: http://press.psprings.co.uk/bmj/june/obesity.pdf
Public link once embargo lifts: https://www.bmj.com/content/369/bmj.m2237
Figure: BMJ rapid response to editorial https://www.bmj.com/content/369/bmj.m2237
References:
1. Ho FK, Celis-Morales CA, Gray SR, et al. Modifiable and non-modifiable risk factors for COVID-19: results from UK Biobank. medRxiv 2020 doi: 10.1101/2020.04.28.20083295 [published Online First: 02.05.2020]
2. The OpenSAFELY Collaborative, Williamson E, Walker AJ, et al. OpenSAFELY: factors associated with COVID-19-related hospital death in the linked electronic health records of 17 million adult NHS patients. medRxiv 2020 doi: 10.1101/2020.05.06.20092999 [published Online First: 07.05.2020]
3. Action on Sugar and Action on Salt. Obesity: Treat and Prevent. An evidence-based action plan to reduce death from Covid-19. 2020 [Available from: http://www.actiononsugar.org/media/actiononsugar/Action-on-Sugar_Action-on-Salt_Treat-and-Prevent-Report-29th-May-2020..pdf accessed 05.06.2020.