Call to Stop Misleading Parents with Child Friendly Packaging and Health Claims on Children's Yogurts As Only 1 in 20 Contain 'Healthy' Sugar Levels
Published:
NEW

product survey reveals o

nly

1 in 20 (

5

%

)

of

yogurts with child

friendly packaging

contain

low levels (green)

of

sugar

Over half (

63%) of all

yogurts surveyed provide

a third or

more of a

4-6-year olds

maximum daily intake for

added

sugars

per

serve

Worst offenders include

Nestlé

Ro

lo Mix-in Toffee Yogurt

which contains 5

½

teaspoons of sugar per serve (22g)

–

as much sugar as 16 Malted Milk Biscuits

Nutrition and Health c

laims on packaging mislead parents and distract from the

nutrition labels

Action on Sugar calls for a complete ban on

using

child friendly packaging, and misleading nutrition and health claims

, on

yogurts that are high or medium in sugar
View the Media Coverage here
Progress to reformulate and reduce added sugar in yogurts with child friendly packaging (and in line with government guidance) is disappointingly sluggish, according to research carried out by Action on Sugar based at Queen Mary University of London. [1,2]
New data analysis (which surveyed 100 children's yogurts) has revealed a minuscule 1 in 20 (5%) of products which featured cartoon animations, characters and designs deliberately to target children were rated low (green) in sugar [3]. What's more, over half (63%) of all yogurts provide a third or more of a 4-6-year old's maximum daily intake for added sugars (19g) [4] per serving [5].
The worst offender was Nestlé Rolo Mix-in Toffee yogurt with 5 ½ teaspoons of sugar per serve (22g) – that's as much sugar as 16 Malted Milk Biscuits [6], followed by Nestlé Smarties Vanilla Flavour yogurt, with 4 teaspoons of sugar per serve (16.5g).
The group of experts is now calling for government restrictions on using child friendly packaging, and nutrition and health claims on yogurts (high or medium in sugar), to stop misleading parents.

Misleading Packaging
Despite these yogurts containing added sugar, syrups and fruit concentrates (all of which are 'free sugars' [7] known to be harmful to children's health and their teeth), claims about calcium, vitamin D, and being high in protein [8] are often championed on pack. This creates a distorted 'health halo', suggesting the products are completely healthy with only sugars from natural sources such as lactose from milk, which distracts parents from scrutinising the nutrition labels more carefully [9].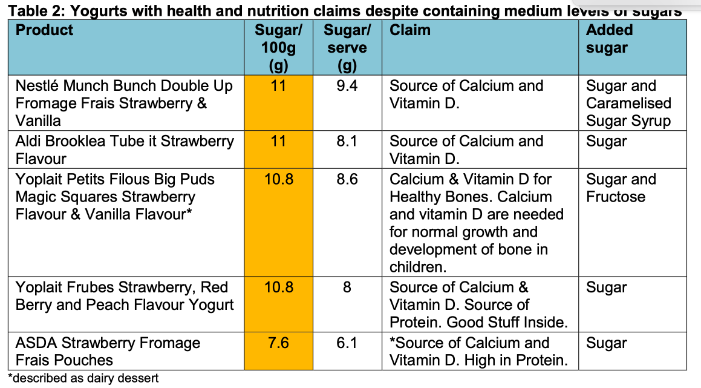 Although the average total fat content of the surveyed yogurts is generally low i.e. three-quarters (77%) obtain a green rating for fat, the saturated fat in the yogurts, which contributes to poor heart health, is less positive.
Two-thirds (67%) of yogurts surveyed were either medium or high in saturated fat. Curiously, the two products with the highest saturated fat content were dairy-alternative products which are often perceived to be healthier. These include The Coconut Collaborative Strawberry & Banana and The Coconut Collaborative Mango & Passionfruit (6.1g saturated fat per 100g).
Registered Nutritionist Dr Kawther Hashem, Campaign Lead at Action on Sugar says,
"Parents can easily be misled when walking through the yogurt aisle in the supermarket. Often companies try to avert our eyes from seeing the significant amount of sugar listed in the ingredients and nutrition tables, by using healthy sounding claims and cartoony images on the front of pack. 
"Given only 5% of yogurts with child friendly packaging would have a green coloured label as being 'healthy' for sugar, food companies must make every effort to reduce the sugar in these products, particularly the ones targeted so explicitly towards children." 
Katharine Jenner, Campaign Director at Action on Sugar says,
"Clever marketing techniques such as advertising, promotions and packaging are powerful tools to get children hooked on the sweet stuff from a young age and for life. The government's Obesity Strategy is taking bold steps to tackle unhealthy advertising and promotions. Now they need to ensure food companies only use cartoons and health halo statements on their healthier products, allowing parents to see more of what is good for their children."
Graham MacGregor CBE - Chairman of Action on Sugar, Professor of Cardiovascular Medicine, Queen Mary University of London says,
"With ten children out of every class of thirty leaving primary school are overweight or obese, and the overall cost of obesity to wider society is estimated at £27 billion per year [10]. Given this, it is imperative that food companies now act more responsibly and commit to reformulate sugar, salt and calorie reduction, instead of foisting unhealthy products that contain child friendly packaging with misleading nutrition and health claims."
Amelia Lake, Dietitian, Public Health Nutritionist and Professor of Public Health Nutrition, Teesside University and Associate Director of Fuse, The Centre for Translational Research in Public Health said,
"As a mother of young children and a dietitian I know only too well the effects of pester power. The statistics from this research aren't a surprise, but what is surprising is that we are allowing such high sugar foods to be directly marketed to children. It is time for action, make it clear these foods are not a healthy choice. I hope the companies and the policy makers take these important research findings on board and make food choices easier for busy parents."
Fran Bernhardt, Children's Food Campaign Coordinator at Sustain said:
We all want children to have the best start in life, so the food we give them needs to be healthy. But when it comes to children's yogurts, Action on Sugar's new research reveals a flood of sugary options with only 1 in 20 containing low sugar levels. Our local networks of public health initiatives put a lot of effort into helping parents to cut through such misleading marketing, resource that's better spent elsewhere. We all need to play our part to support parents to make healthier choices for their children, so Government should make sure cartoon images and health claims are reserved for healthier products.
References
[1] Survey details: The survey, conducted between April and May 2021, included the collection of calories, sugar, salt, fibre, and vitamin data per 100g and per serving for yogurts that may appeal to children. Data was collected online via retailer websites and in store (Aldi, ASDA, Lidl, Ocado (which covers Marks & Spencer's), Morrisons, Sainsbury's, Tesco, The Co-operative and Waitrose). All products mentioned in this release have been purchased and figures have been verified.
[2] The collected yogurt data underwent rigorous inclusion and exclusion criteria for what would be deemed 'child friendly packaging' based on previous Action on Sugar surveys and other literature.
Inclusion:
Chilled yogurts with more than 50% dairy or dairy alternative, as defined by retailer's categorisation on their website

Small and medium sized yogurt pots that are aimed for children

Child friendly imagery (such as cartoon characters)

Child friendly style (such as bright colours, animated)

Child friendly brand character (such as Peppa Pig)

Child friendly font (such as balloon letters and child friendly fronts)

Child friendly media partnerships (such as Disney)

Child friendly offers (such as a free game)

Child themed language (such as 'made for kids')
Exclusion:
Drinking yogurt

Ambient yogurt with less than 50% dairy or dairy alternative

Animations that are part of company logos

Non-dairy puddings e.g. chocolate mousse
[3] Criteria for high, medium and low for each nutrient is based on the Department of Health's 'Guide to creating a front of pack nutrition label for pre-packed products sold through retail outlets' https://www.food.gov.uk/sites/default/files/media/document/fop-guidance_0.pdf
[4] The recommended daily maximum of free sugars for a 4-6 year old (19g), 7-10 year olds (24g) and anyone over 11 years (30g). SACN Carbohydrates & Health Report. 2015.
[5] Dairy yogurts contain approx 3.8g per 100g of naturally occurring sugars (lactose) from cow's milk. PHE. Sugar Reduction: Achieving the 20%. 2017. https://assets.publishing.service.gov.uk/government/uploads/system/uploads/attachment_data/file/604336/Sugar_reduction_achieving_the_20_.pdf
[6] A Sainsbury's Malted Milk biscuit contains 1.4g sugar - https://www.sainsburys.co.uk/gol-ui/product/aldi-price-match/sainsburys-malted-milk-biscuits-200g
[7] Free sugars include:
all added sugar (including honey, syrups and nectars) whether that is added during manufacturing or after
lactose and galactose added to food and drinks
all sugars in juice (excluding dairy-based drinks)
all sugars naturally present in fruit and vegetable juices, concentrates, smoothies, purées, pastes, powders and extruded fruit and vegetable products.
[8] Other claims include 'no artificial sweeteners', 'no artificial colours' and 'good stuff inside'
[9] Using a single claim, such as being high in fibre or containing no added sugar, may encourage consumers to overestimate the healthiness of an item as they assume it means that the product will be healthy overall. Phe. Foods and drinks aimed at infants and young children: evidence and opportunities for action. 2019. https://assets.publishing.service.gov.uk/government/uploads/system/uploads/attachment_data/file/812204/Foods_and_drinks_aimed_at_infants_and_young_children_June_2019.pdf
[10] PHE. Health matters: obesity and the food environment. 2017. https://www.gov.uk/government/publications/health-matters-obesity-and-the-food-environment/health-matters-obesity-and-the-food-environment--2